We're always fond of the obvious-but-useful gadget, and Silicon Power's Ultima 155 USB flash drive could be exactly that.
The Ultima 155, pictured below, is available in 1GB, 2GB, 4GB and 8GB capacities. Should you need more room, you'll find a useful microSDHC expansion slot at the rear.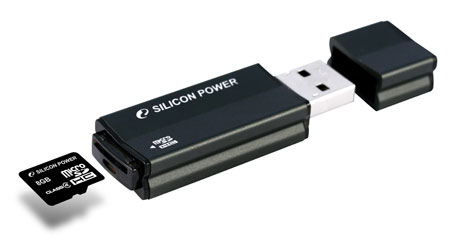 It's compatible with microSD and microSDHC memory cards, and measures 57.3mm x 18.0mm x 9.2mm. Not a bad little idea, and it doubles as a microSD card reader, too.
Official press release: Silicon Power introduces Ultima 155 USB flash drive with microSDHC card reader, expanding storage capacities