Component prices for PC enthusiasts are looking good at the moment; with healthy competition in the CPU market, the GPU crypto-bubble no longer a factor, and essentials like RAM and storage at their best prices for a long time. Focussing upon storage, particularly the NAND-flash market, Trendforce, a division of DRAMeXchange has made a welcome prediction this week. Its market analysts say that the prices of SSDs are going to hit an all-time low, with the price per gigabyte dropping below $0.10, before the year is out.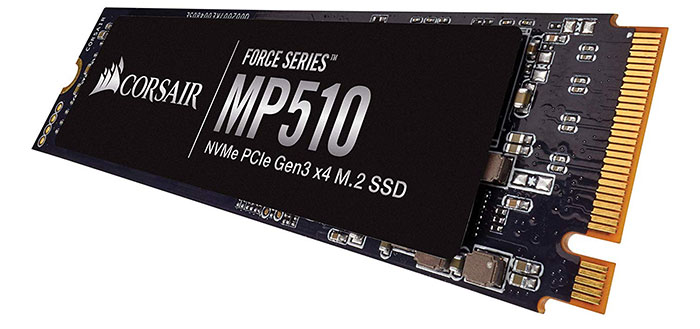 The reason for the projection is that Trendforce observes oversupply of NAND and the SSD suppliers have instigated a price war in order to shift their wares, and compete against rivals. Due to this market action "Average contract prices for 512GB and 1TB SSDs have a chance to plunge below US$0.1 per GB by the end of this year, hitting an all-time low," asserts Trendforce.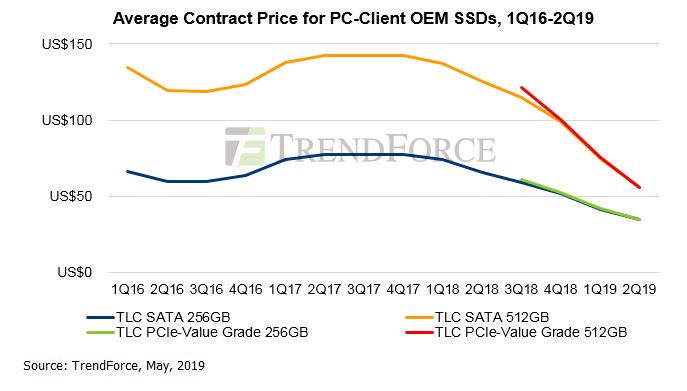 The graph above shows trends and extrapolation of trends for SATA and PCIe SSDs using the latest data.
Moving onto related trends and expectations, we should see PCIe SSDs achieving 50 per cent market penetration this year, as the pricing is "nearly identical" across capacities (an average 6 per cent difference in premium solutions, but 0 per cent on average for value solutions). Laptops already passed the 50 per cent milestone for SSD adoption last year, many of them packing the much smaller and lighter M.2 format drives, for obvious reasons.
In brief, if you have faith in these analyst predictions then it is worth waiting a quarter to two to grab a more capacious SSD for your money. Here in the UK I often check consumer pricing trends using camel x3 and I am seeing more favourable pricing curves for PCIe SSDs, as the SATA drives I checked aren't quite at their lowest prices at the time of writing.