The SD Association (SDA) has today announced its "revolutionary" SD Express memory cards, at the Mobile World Congress show in Shanghai, China. The new memory cards, part of the new SD 7.0 specification, leverage the PCIe 3.0 specification and NVMe v1.3 protocol to deliver the fastest memory card speeds and the greatest capacities yet. New SD Express cards will be capable of transfer speeds up to 985MB/s and in capacities up to 128TB.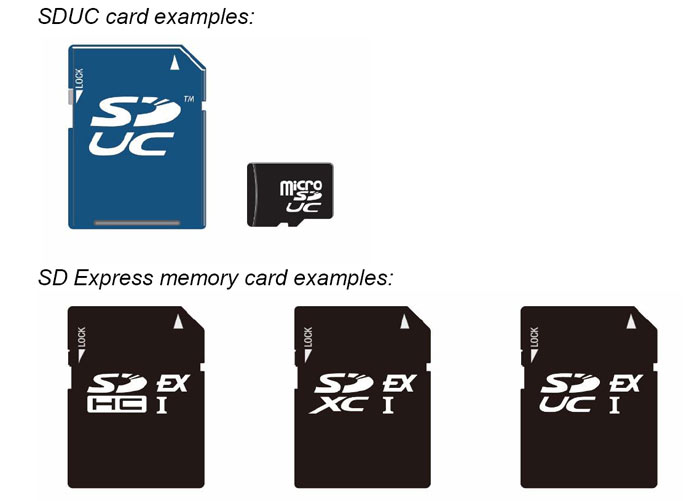 "With SD Express we're offering an entirely new level of memory card with faster protocols turning cards into a removable SSD," said Hiroyuki Sakamoto, SDA president. "SD 7.0 delivers revolutionary innovations to anticipate the needs of forthcoming devices and content rich and speed hungry applications."
The SD Bus Interface specification has been continuously increased over the years from High Speed (25MB/s) to 3rd Generation of Ultra High Speed UHS-III (624MB/s). Now, the SDA offers SD Express, which uses the PCIe and NVMe Interfaces to deliver up to 985MB/s data transfer rates between SD host devices and memory cards. Furthermore top capcity has been given a considerable boost, from 2TB with SDXC to 128 TB with the new SD Ultra Capacity (SDUC) card.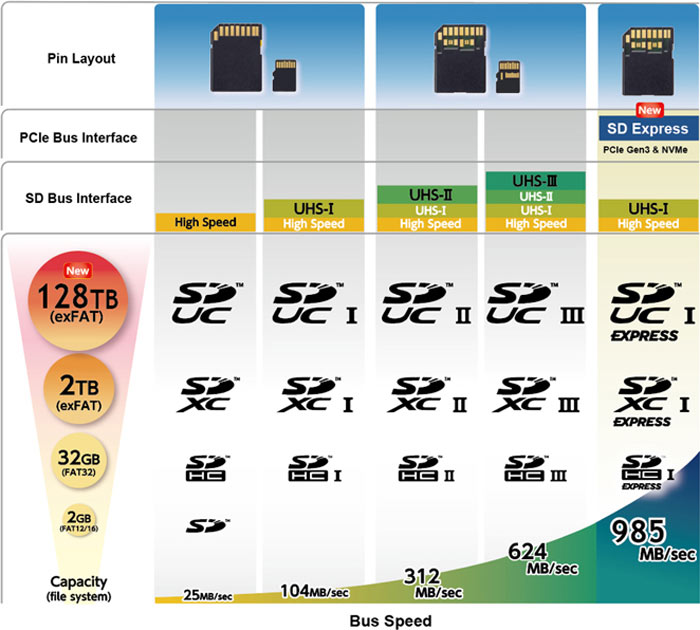 As usual, the SDA assures us of backward compatibility, meaning that any speed rated cards can be used in UHS-I, UHS-II, UHS-III and SD Express host devices but faster performance levels will only be attained when matching the card to the host device.
Why would anyone need such fast and capacious SD cards? Every time the SDA boosts the standard it justifies it with use case examples. This time around it is easy for PC enthusiasts to see the appeal of what could be considered a 'removable SSD', as mentioned by the SDA president above. Other applications include; transferring large amounts of data generated by data-intense wireless communication, super-slow motion video, RAW continuous burst mode and 8K video capture and playback, 360 degree cameras/videos, speed hungry applications running on cards and mobile computing devices, ever evolving gaming systems, multi-channel IoT devices, and more.
You can read through the SD Express press release and white paper (both PDFs), which are available from the front page of the SDA website, for further information.