Team Group has launched its T-Force Delta RGB SSDs. These 2.5-inch form factor drives claim to have the largest illuminated area on the market. You can easily see that there is more surface area with RGB LEDs than without, and Team Group puts that ratio at 5:3 spec fans.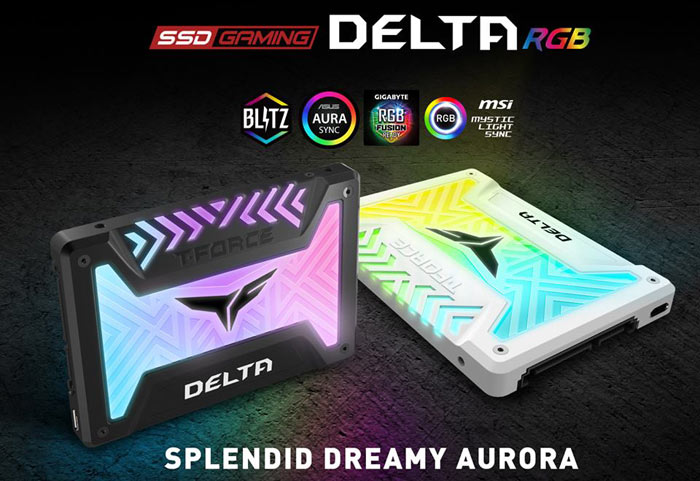 Before we get into all the details about the RGB LED capabilities and so on, let us check over the more practical specifications of these T-Force Delta RGB SSDs. These are SATA 3 drives that are available in capacities of 250GB, 500GB, and 1TB. Probably due to all the RGB frills these aren't the slimmest drives, but you won't be fitting them into confined laptop spaces. Measurements are 100(L) x 69.9(W) x 9.5(H)mm. Buyers get a 3 year warranty and there's an MTBF figure of 1 million hours.
Performance is as would be expected with the 1TB drive being a little faster at writes:
ATTO / Crystal Disk Mark:
250GB Read: 560MB/s ; Write: 500MB/s
500GB Read: 560MB/s ; Write: 500MB/s
1TB Read: 560MB/s ; Write: 510MB/s
IOPS:
250GB 4K Random Read/Write: 90K/80K IOPS max
500GB 4K Random Read/Write: 90K/80K IOPS max
1TB 4K Random Read/Write: 90K/85K IOPS max
Inside these drives you will find 3D NAND chips with Wear-Levelling technology, ECC (Error Correction Code), NCQ (Native Command Queuing) and support for the Windows TRIM optimisation command.
Now onto the RGB lighting frills that these drives from Team Group can deliver. As mentioned in the intro they offer an expansive lit area capable of displaying a 16.8 million strong palette of colours. Synchronisation is available via Team Group's own and various other RGB lighting software standards from vendors such as Asus, MSI, Gigabyte, and ASRock.
You will notice that there are two sub-models of the T-Force Delta RGB SSDs. The Delta S, and the Delta (Magnificent), and both these types are available with a black or white case. In brief, the Delta S is a 'simple' version and it uses a 12V RGB header. The simple version is one uniform colour block, as controlled by your RGB hub/software. Team Group are most proud of the Delta (Magnificent) version which can display a rainbow effect on its RGB panels "with water flowing light to maximize the variability of colour". This device connects via a 5V ADD header, directly compatible with many RGB motherboards. Other than these lighting differences the drives are the same.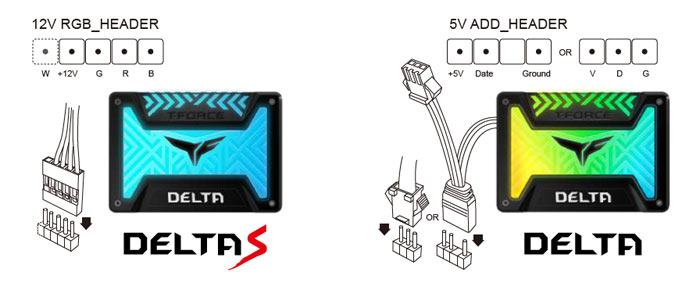 If the above SSDs appeal but you think they might put your memory modules to shame, Team Group also sells Delta RGB DDR4 gaming memory modules. Check out the video below to see it in action.