SK hynix has announced that it has begun sampling new enterprise SATA Solid State Drive (or 'eSSD') up to 4TB in capacity. To create such a high density device SK hynix has employed its own 72-Layer 512Gb (Gigabits) 3D NAND Flash chips.
With these new 3D NAND Flash chips ready, SK hynix combined them with in-house firmware and controller designs. In its press release concerning the developments the South Korean tech firm says that server and data centre clients in the United States have already started to sample the new eSSD.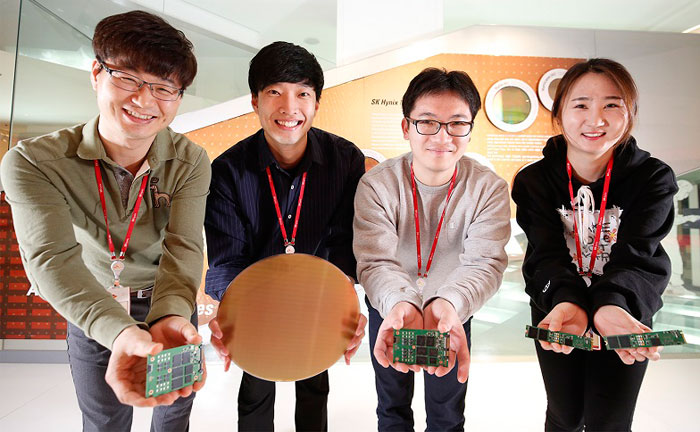 In house testing revealed that the eSSD is capable of sequential reads of up to 560MB/s and sequential write speeds of up to 515MB/s. In terms of IOPS it can perform 98,000 random read IOPS and 32,000 random write IOPS. SK hynix also claims it has "improved the read latency, which is of the utmost importance in eSSD performance".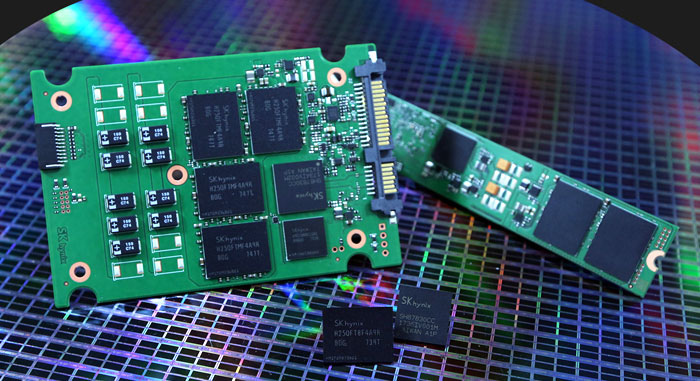 4TB SATA SSD(Left)+ 1TB PCIe SSD(Right)
+ 72-Layer 512Gb 3D NAND Chip(Left front) + NAND Flash Controller(Right front).
In addition to the enterprise SATA drives, SK hynix has finished developing enterprise PCIe (PCI Express) SSD based around this same 72-Layer 3D NAND. These will be available in capacities of 1TB. In house performance figures for these devices were published too; 2,700MB/s and 1,100MB/s of sequential read/write speed and random read/write performance of 230,000 IOPS and 35,000 IOPS were quoted. Despite the enterprise target markets, SK hynix hasn't as yet shared any durability data about the new SATA or PCIe SSDs using its new 72-Layer 3D NAND.