Back in September we noted that SanDisk launched a 400GB microSD UHS-I card. At the time it was a record breaker in terms of capacity. Soon it is about to be eclipsed, as UK-based Integral Memory is readying a 512GB microSDXC card for release in February.
In a press release Integral crows about beating "all competitors," to the 500GB milestone. Its new fingernail-sized memory card seems to be aimed at smartphone and tablet users who require a 'massive memory boost' for creating, storing and sharing more photos and videos and enjoying app and music downloads.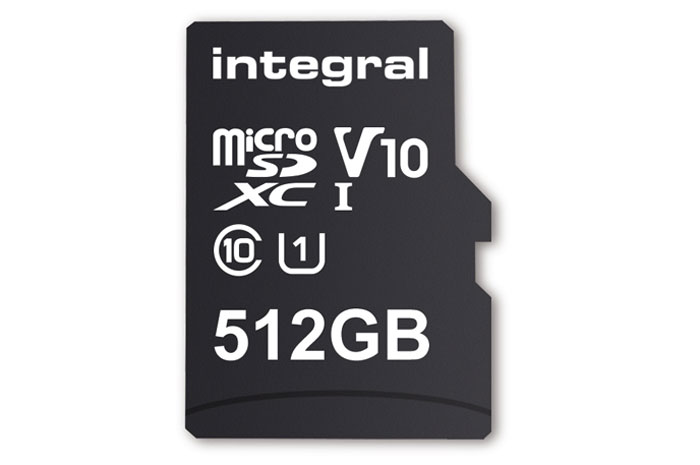 It definitely excels in capacity, but what of performance? First of all the new microSDXC card offers the following certifications:
Class 10 speed (C10)
Video Speed Class 10 (V10) specification
UHS-I, Class 1 specification (U1)
The V10 certification means that this card should be good for Full HD capture in smart devices, drones, cameras, camcorders and so on too. Even though Integral talks about the attraction of this card to smartphone and tablet users, it hasn't decided to get the card certified to the App Performance Class 1 (A1) standard.
Onto the performance claims, with transfer speeds quoted. Integral's press release quotes the top speed of the upcoming 512GB microSDXC card as up to 80MB/s. However, the product page quotes a top speed of up to 90MB/s (write speed lower).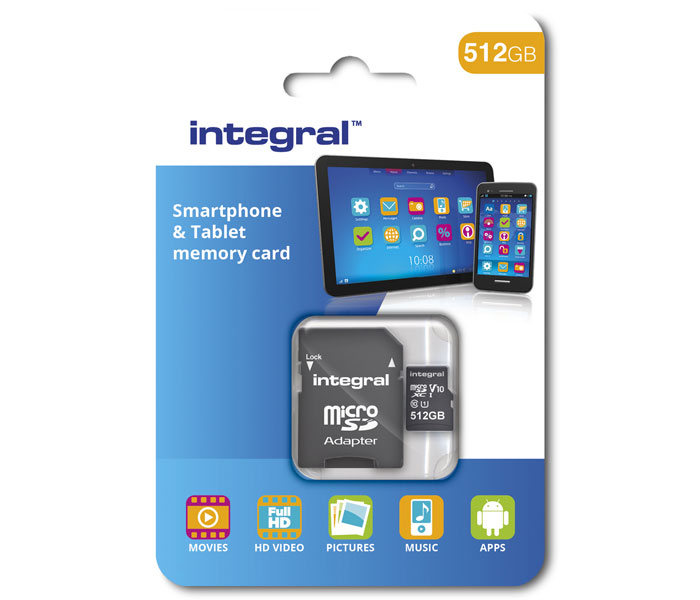 Integral supplies its new 512GB microSDXC card with an SD card slot adaptor, transparent protective case, and a five year warranty. No pricing was indicated by Integral, but SanDisk's competitive 400GB card retails at $250-ish.