Toshiba has launched a new SSD product that it hopes addresses a sweet spot in consumer demand. The firm has designed a new M.2 NVMe SSD that it describes as "value optimised", hoping that its efficient power sipping performance, sitting between SATA6 and enthusiast NVMe SSDs, appeals to thrifty consumers. Toshiba's RC100 Series M.2 drives (22x42mm form factor) will be made available in 120GB, 240GB and 480GB capacities.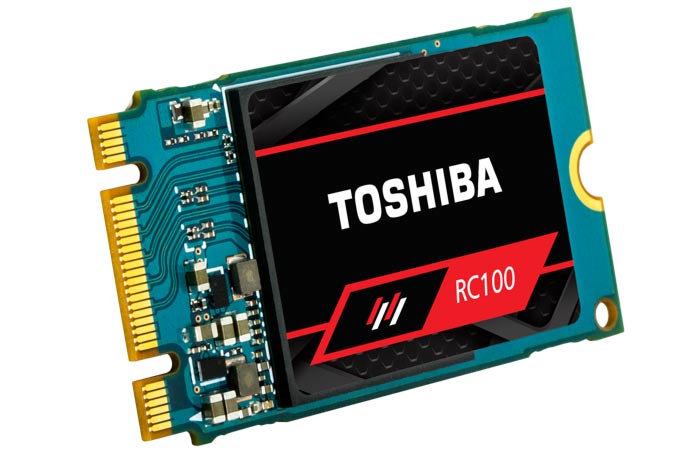 M.2 format storage devices are increasingly popular as more and more laptops and motherboards include this interface but until now most of the fast NVMe devices have been priced with enthusiast level premiums. According to Toshiba top brass, the new RC100 is the right product to make "NVMe to go mainstream".
The new Toshiba RC100 M.2 NVMe SSDs use Toshiba's own state-of-the-art 64-layer, 3-bit-per-cell TLC (triple-level cell) BiCS FLASH. Add to that an in-house developed SSD controller in a single package, and the elimination of the onboard DRAM buffer, factors which must help keep costs down, and you have the RC100 series. With its Host Memory Buffer (HMB) technology (using your system RAM - optional feature) the new RC100 can deliver; up to 1,620 MB/s and 1,130MB/s in sequential read/write transfer rates and up to 160,000 and 120,000 random read/write IOPS. Those figures are roughly two to three times faster than a SATA SSD drive.
We don't have precise pricing and availability dates for your today. However, we know that the RC100 series won't become available until Q2 this year. The pricing of the top capacity (480GB) drive is hoped to be under US$200. Buyers receive a 3 year warranty.
Here's Toshiba's Alex Mei running through the feature-set when we visited the company's suite.