Toshiba has launched a high capacity 3.5-inch HDD which it claims is "the world's first enterprise 14TB Conventional Magnetic Recording (CMR)" hard disk drive. The 14TB Toshiba MG07ACA Series uses a 9-disk, helium-sealed design and is said to deliver an attractive density and power efficiency for enterprise storage solution providers to achieve their TCO objectives. Toshiba also launched a 12TB version with 8 platters.

Benefits of Toshiba's CMR/PMR drives are that they work with existing server and storage system architectures. Meanwhile, rival SMR (shingled magnetic recording) HDD products require adjustments to server and storage systems that will take some organisations "several years," according to a quote from John Rydning, Research VP for hard disk drives at IDC.
The MG07ACA Series platters spin at up to 7,200 rpm and the Helium atmosphere enveloping the disks reduces aerodynamic drag to deliver a lower operational power profile. Toshiba has put in extra effort to make sure the Helium gas doesn't escape the disk enclosure by utilising a precision laser welding technology at all joins.
Toshiba says it has already started shipping out samples of the MG07ACA HDD drives. We will have to wait a while longer before they reach further distribution channels. As they are aimed at cloud and business data centres I wouldn't expect these SATA 6.0Gbit/s interface drives to appear at retailers like Amazon.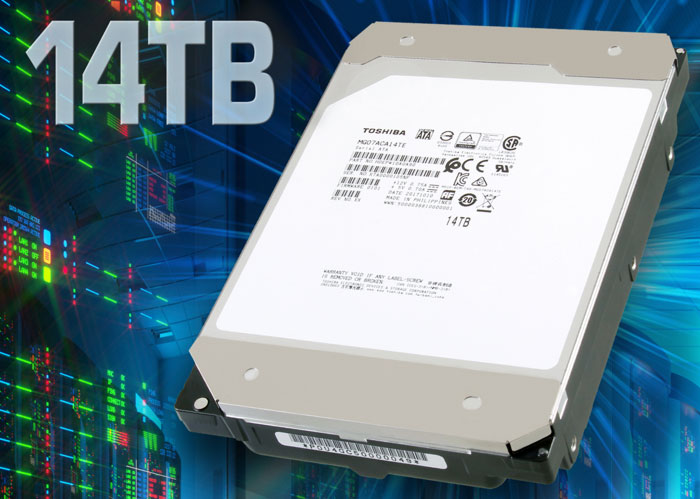 Key Specs
14TB and 12TB capacity models
Innovative 9-disk helium-sealed design for superior storage density
Industry Standard 3.5-inch 26.1mm Form Factor
7,200 rpm Performance
SATA 6.0Gbit/s Interface
Buffer: 256MB
Low operational power profile, providing excellent power efficiency (W/TB) for better TCO
550 Total TB Transferred per Year Workload Rating
2,500,000 hours MTTF
512e or 4Kn Advanced Format Sector Technology; (512e Model) Includes Toshiba Persistent Write Cache Technology for Data-Loss Protection in Sudden Power-Loss Events
Weight 780g max
Applications
Cloud-scale Storage Infrastructure
Software-defined data centre infrastructure
File- and Object-based storage infrastructure
Mid-line / Nearline Business Critical Workloads
Tier 2 Business-Critical Servers and Storage Systems