The NVM Express (NVMe) specification has received its first major update in three years. Version 1.3 of the NVMe specification (PDF) for SSDs on a PCI Express (PCIe) bus adds a significant number of new features.
The NVM Express Organisation says that it has fulfilled its promises to add capabilities to meet the needs of its Enterprise, Cloud, and Client customers. Sanitise, Virtualization and Streams functionality have received particular attention, it says. Breaking down these three enhancements: Sanitise offers a simple, fast, native way to completely erase data; Virtualization provides more flexibility with shared storage use cases; and Streams offers better endurance for NAND-based SSDs.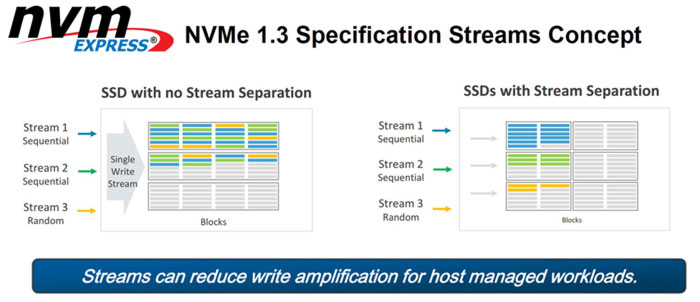 Some other significant new features include advanced debugging tools for SSDs and more granular control of thermal throttling. Mobile computer product designers will likely be happy to hear that the interface has been enhanced to add a Boot Partitions feature, "which enables bootstrapping of an SSD in a low resource environment".
None of the above features and optimisations has lead to compromises in the high performance and low latency properties, central to the NVMe proposition. Thus, NVMe devices are "ready to take advantage of next generation bus speeds, including PCIe 4.0," boasts the standards organisation.
In other news the NVM Express Organisation shared details of its success over recent years. The first NVMe SSDs shipped in H2 2014, it says, yet by H1 next year it will be the highest volume SSD interface on the market (in terms of gigabytes shipped).
Devices following the NVMe 1.2 spec only started to launch in H2 last year and a two year ramp-up is typical for products to reach end users.