The latest figures for desktop operating system market share reveal that Windows 10 market share continued to creep upwards, while trusty old Windows 7 fell beneath a significant market share milestone in April.
NetMarketShare has published its Desktop Operating System Market Share data for April 2016 and you can clearly see, below, that Windows 10 has cemented itself in second place among popular desktop OSes, capturing 14.35 per cent of the market. It's share is not up very much though; in March its reported market share was already 14.15 per cent. Putting a number to these percentages, Microsoft stated in late March that Windows 10 was in active use on over 270 million devices.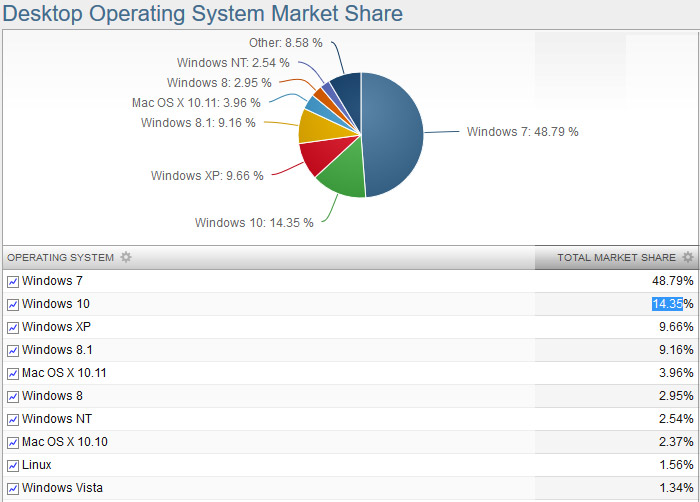 In the NetMarketShare desktop OS usage data, which includes not just Windows but alternative OSes such as Mac OS X and Linux, it is also significant that Windows 7 has dropped beneath a certain threshold. April's worldwide recorded usage of Windows 7 dropped beneath the 50 per cent threshold and is now at 48.79 per cent. That's quite a decline since the March 2016 figures were published, showing it held a 51.89 per cent share at that time. We saw last month that among Steam gamers Windows 10 64-bit became more popular than Windows 7 64-bit – that gap has widened this month.
Another notable drop past a significant percentage number was that of Windows XP. In March it clung onto 10.90 per cent of the market but in April that number fell to 9.66 per cent. For an OS that is no longer supported that's a lot of potentially vulnerable machines being clocked by NetMarketShare's web analytics data sampling.
Microsoft will release its free Anniversary Update for Windows 10 this summer which could, given favourable reviews, help boost the adoption of its newest OS. Meanwhile, those still using Windows 7 and 8.1 PCs have until 29th July to take advantage of Microsoft's free upgrade to Windows 10 offer.