Microsoft has announced some changes to how Cortana works in Windows 10. As an expert user, these changes might well impact tweaks and preference changes you have already implemented with your system. If you have changed your Cortana search and browser preferences previously the changes could affect you so please read on…
Cortana needs to rely upon Bing as the search provider and Microsoft Edge as the browser to deliver an end-to-end personal search experience, says Microsoft. Windows 10 is designed to incorporate Cortana to provide personal, intuitive and helpful information and other providers compromise that experience. Therefore Microsoft has made changes to Windows 10 to ensure that "Microsoft Edge will be the only browser that will launch when you search from the Cortana box". Furthermore, Bing will be the search engine Cortana uses.

Backing up its decision, Microsoft gives examples as to how only Cortana, working in concert with Bing and Microsoft Edge, can provide a valuable integrated Cortana experience:
Search for "Pizza Hut" in the Cortana box and, once you're on the Pizza Hut website in Microsoft Edge, Cortana can show you your closest locations.
Search for "Bluetooth not working" in the Cortana box and Bing gives you a rich video help answer only available on Windows 10 as a Bing search result.
Shopping for a new black dress in Microsoft Edge, do an image search in Bing and then right click a dress to Ask Cortana to get you more information on it.
Search for "Best Buy" in the Cortana box, click through on the top web result to bestbuy.com, and Cortana will offer up coupons to save you money. The list goes on and on.
The above examples sound pretty good for end user convenience and satisfaction, and would perhaps be missed by those who install the OS and immediately set it up like a previous OS, without giving new features a go. However if Microsoft is now being too pushy it could suffer from a backlash.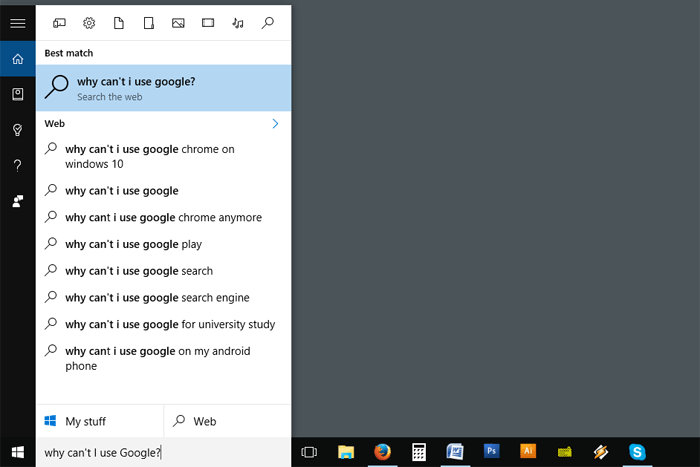 Please note that this change to queries and searches from the Cortana box doesn't affect your search and browser preferences in any other way. "You can continue to use your search engine and browser of choice on Windows 10," says Microsoft, in bold, in its blog post. That preference remains in the centralised default manager to choose your preferred default apps for everything.