While Microsoft didn't exhibit at the CES, which ended at the weekend, information came out from its development team, and the host of device makers present, concerning the way the OS scales content - Windows Display Scaling. The information pertains to the OS changes and enhancements coming with 'Redstone', sometimes referred to as the "fit and finish update," for Windows 10.
As the Windows Team relates; "Scaling is a complex problem for the open Windows ecosystem, which has to support devices ranging in size from roughly 4-inches to 84-inches, with densities ranging from 50DPI to 500DPI. In Windows 10 we took steps to consolidate and simplify our developer story for scaling and to improve the end-user visual experience." The scope of the tweaks and changes was designed based upon feedback from the Windows 10 Insider community.
Apps written for the Modern UI should already scale well to displays of all kinds,with various screen splits and window modes working well and as expected. However many older, mainly Win32 desktop apps, provide almost illegible UI elements/texts to users of high DPI screens. following its latest efforts Microsoft says that "Windows 10 has polished the most commonly used desktop UI to look beautiful and clear even at 400 per cent scaling".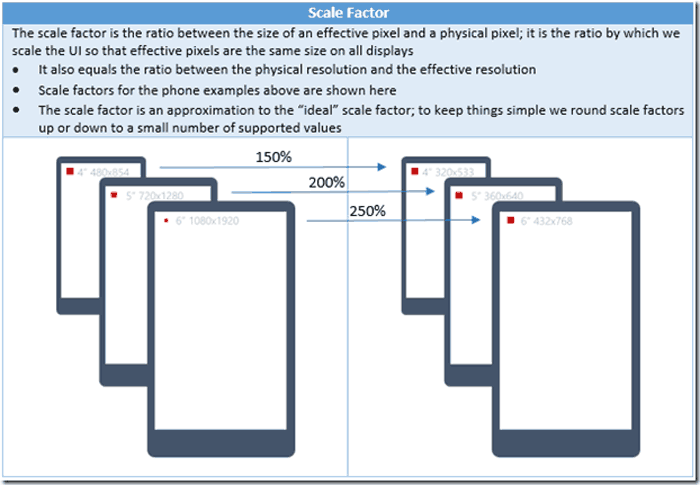 WinBeta reports that the Windows team has now "taken up the task of unifying how content scales across devices, extended the scaling system an important system UI element to handled upwards of 8K displays and improved Windows support for more OS and application content". Appropriate scaling is very important to Continuum users, for example.
The previous maximum display scaling value was 250 per cent. Redstone will bring a range of scaling values between 100 and 450 per cent to users which should cater for those with very high PPI displays such as 6-inch 4K smartphones and 23-inch 8K desktop monitors. There is still some work to be done before Redstone is ready for the masses in summer, however it's good to see work ongoing to address these usability issues.