At the start of the month we saw AMD Radeon Technologies Group (RTG) announce its new Radeon Software Crimson and today it has made the software available to end users (download here). Headlining changes are; 12 new or enhanced features, up to 20 percent more graphics performance, adjustability that can nearly double generational energy efficiency, and rock-solid stability across the full spectrum of AMD graphics products.
Terry Makedon, Senior Manager, Radeon Technologies Group
Following its decade long software driver support via Catalyst, AMD has now come up with "a brand new name, a brand new identities and a brand new mission for our software", said Terry Makedon, Senior Manager, Radeon Technologies Group. The Radeon Software Crimson Edition was born from feedback out of the AMD Catalyst Omega project and working with developers and users. The result is said to be:
Performance-driven design
User-oriented functionality
Trustworthy stability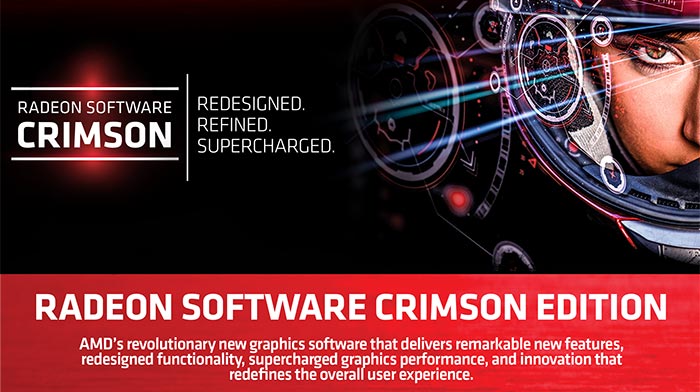 The new software control panel is fast and responsive, almost instant to start-up, built from the ground-up with the Qt software development framework. After you have the control software up and running AMD continues its efficiency drive; it is fast and easy to get to the features you use the most. That means less head scratching and fewer mouse clicks to change your settings to the way you want them.
Pushing further with ease of use, AMD has created a game profiles manager where you can set custom graphics settings for your games and even go ahead and launch the game straight away. This management facility will likely include some community recommended games profiles already set up for you.
So it's faster and easier to use the new graphics control panel but AMD's new software goes further than that, AMD claims that games will now run even faster and with better perf/watt.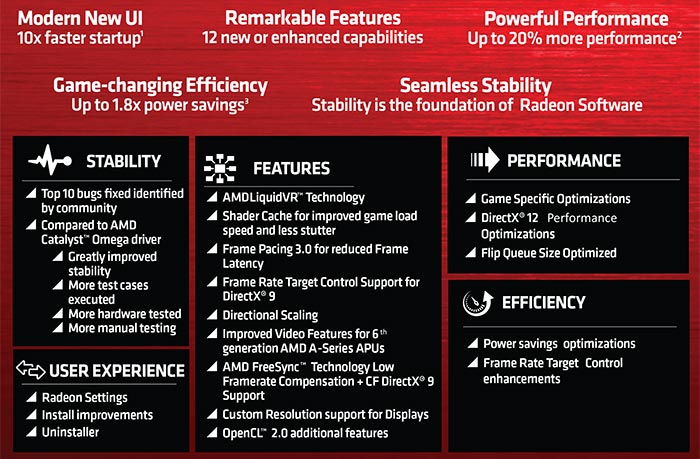 Key advantages of Radeon Software Crimson Edition include:
Fast high-speed game loading with Shader Cache.
Optimized Flip Queue Size provides users with the very latest keyboard and mouse positional information while gaming
Frame Pacing: smoother gaming enhancements enabled on DirectX 9 games
Enhanced image quality for 1080p media content scaled to 4K using adaptive directional filtering technology
Fine-tuned Dynamic Contrast algorithm

Enhanced Video quality settings for 6th Generation A-Series AMD APUs
Display Port to HDMI 2.0 dongle support
Customizable display settings with fine tuning for resolutions, timings, and refresh rates
AMD FreeSync technology enhancements including AMD CrossFire support for DirectX 9 games and low frame rate compensation for smoother gameplay when below the minimum refresh rate
Incredible power efficiency for select products and applications through power optimizations
Frame Rate Target Control enhancements including; power saving capability, support for DirectX 9 games and extended range for target control (20 – 200 FPS)
End user benefits you will see from the above changes include the following:
up to 33% faster game load times in Star Wars: Battlefront
up to 20% more gaming performance in Fable Legends
improved cursor and keyboard responsiveness
up to 1.8x GPU power savings with Frame Rate Target Control
Increased power savings of up to 23%
Looking ahead, with the increasing importance of VR devices and VR software support, AMD has released an Alpha version of its AMD LiquidVR SDK to a select number of developers. Radeon Software Crimson Edition is the first driver that gives the public all LiquidVR features enabled, to help provide smooth and immersive VR experiences.
You can read more about the new Radeon Software Crimson Edition software here and download the driver software here.