While we teeter upon the launch threshold for Windows 10, Microsoft's infomercial machine is shifting up a gear, readying itself to #UpgradeYourWorld. Microsoft introduced the Windows Store back with Windows 8 but it is pretty safe to say it was rather a damp squib, especially for desktop users. With Windows 10 it is seeking to get us to use more of its Modern UI apps and to download/buy more from its built-in store.
In the video above we are asked to take a peek at the latest built-in apps like Photos, Maps, Music, and Movies & TV on Windows 10. Microsoft says that "this family of apps shares an elegant look and feel that works consistently across your PCs, tablets and phones, conveniently synced with OneDrive so you can do your thing anywhere." In a blog post accompanying the video above Microsoft talks through the built-in apps and how they will be useful to users who adopt Windows 10.
Photos helps you organise and enhance your photo collection while integrating OneDrive backup. It makes organising, showcasing, enhancing and sharing photos easy. The new Maps app has replaced both HERE and Bing Maps and implemented a new design with improved search facilities. Locations can be pinned to the Start menu and if you have other Windows devices your favourites will sync across them all. Sharing locations is easy and Maps functionality includes turn-by-turn navigation (offline too), up-to-the-minute traffic information, rich local search results, and robust public transportation options.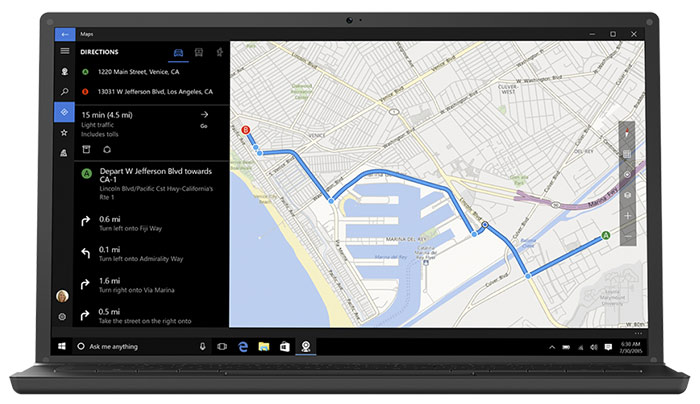 For entertainment Microsoft hopes you'll make use of its Groove and Movies & TV apps. Groove is Microsoft's new music app which you can use to "listen to your favourite songs and artists, make your own playlists, and keep up with all the latest hits". Like with rival services Microsoft hopes you will sign up and subscribe for extra features such as streaming "ad-free access to millions of tracks". The Movies & TV app lets you import your own content and browse the Windows Store for movies and TV to rent or buy.
Last but not least Microsoft details how the built-in Mail and Calendar apps have become more powerful and useful than ever. Mail now has the powerful authoring capabilities of Microsoft Word built-in. So you can easily insert tables, add pictures, use bullets and colour to get your points across, just as you would in Word. A new navigation bar and touch gestures help you get through your mail quickly, whatever platform you are on. The Calendar app allows multiple calendars to be managed with various views to help you keep on top of events.
Windows 10 is 'familiar yet fresh'
This video is hosted by Microsoft's Principal Group Program Manager, Mohammed Samji. He succinctly talks us through many of the new features of Windows 10 that users will be greeted with, upon new and upgraded Windows 10 PCs, from day one.