Retail copies of Microsoft Windows 10 on USB flash drives have appeared on Amazon US. The Home version of the OS on a USB flash drive is priced at $119.99 and the Pro version is $199.99, both include free shipping, a gift wrap service is available. Amazon has provided a pre-order price guarantee.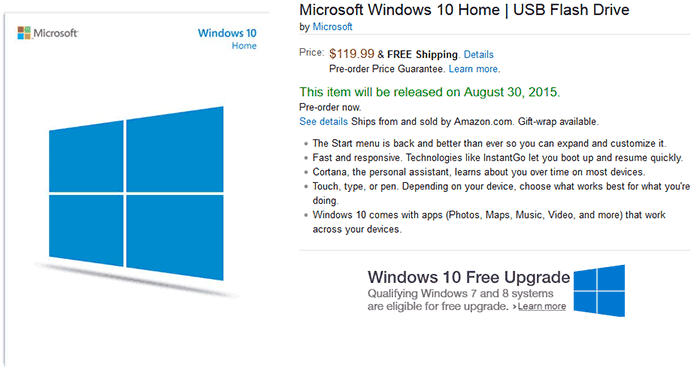 We first heard that Microsoft may be preparing to physically distribute Windows 10 on USB Flash Drives back in June. Screenshots showing inventory of the Windows 10 Home and Pro Flash Drive SKUs were published on a German tech site. That 'leak' has turned out to be correct. Also correct is that the USB media will offer both 32-bit/64-bit install options to the buyer. However Microsoft doesn't seem to be charging a premium for its USB media distribution, as indicated by the German source last month.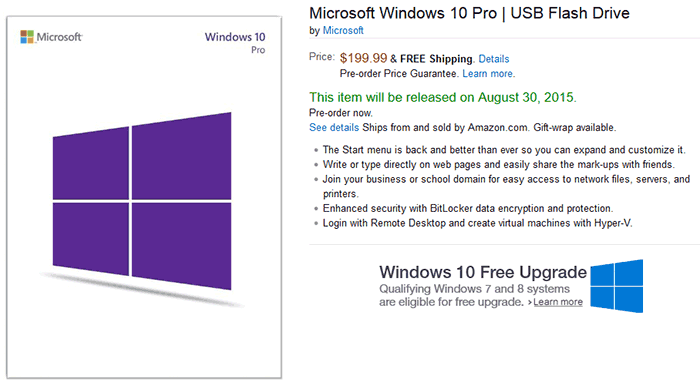 No price premium
Microsoft previously confirmed that both digitally distributed and DVD distributed Windows 10 Home and Windows 10 Pro SKUs would cost $119 and $199. Amazon has promised to honour these exact same prices for its USB flash edition product sales.
Venture Beat asked Microsoft about the Amazon listings linked to above, and received the following statement from a spokesperson: "Windows 10 will be available on USB drives for purchase in retail channels shortly after launch." On the subject of pricing the spokesperson told VentureBeat. "The suggested retail prices for Windows 10 in the U.S. are the same as Windows 8.1."
Offering Windows distributions on USB flash drives is obviously a good move and could be popular with PC enthusiasts, as many eschew ODD drive installations due to the lack of necessity, or due to owning one of the increasing number of chassis without an ODD bay.
Amazon puts the availability date of Microsoft Windows 10 on USB flash drives as 16th August. This seems to tally with Microsoft's "shortly after launch" statement above. Venture Beat reports that this 'abritrary date' will probably change and that other retailers including the Microsoft Store will, of course, be stocking the Windows 10 USB sticks.