Microsoft has announced that the Office 2016 Public Preview is available for anyone to download. Previously only developers have had the chance to test Office 2016 builds. The headlining feature of the new desktop Office suite is the ability to use it for online real-time collaborative work, a feature previously exclusive to Office Online.
Jared Spataro, GM of the Microsoft Office marketing team, wrote how Microsoft has worked over the last year to bring Office to new platforms like the iPad and Android tablets, how it's been improved for the web and the Mac, and how new Office apps like Sway and Office Lens have been added to the product. However, he notes, Office on Windows desktop is central to the firm's strategy and has not been forgotten.
An overview of the new features in Office 2016 shows that the key new features centre on cloud functionality and smart applications. In addition Microsoft Excel has been enhanced with new, easier, faster data analysis tools.
All the Office 2016 applications are now more cloud savvy. It's now easier to create, open, edit and save files in the cloud from your desktop. OneDrive can also be used as an easy location for attaching files, with appropriate permissions, for your Outlook communications.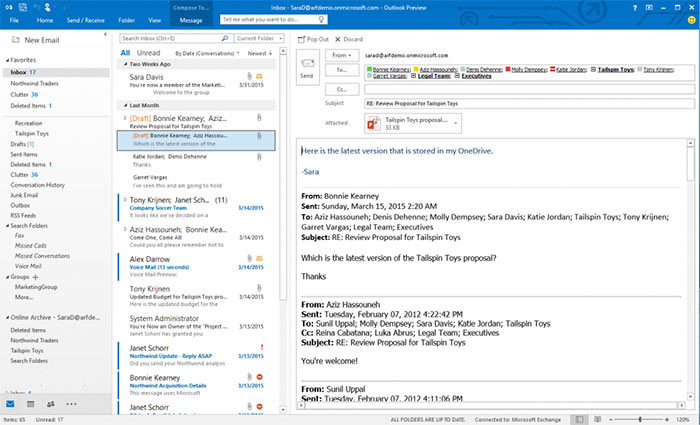 As mentioned in the intro, Office desktop suite users will now benefit from being able to collaborate with other users in real-time – just like Office Online users have been able to do. "You'll be able to see where other editors are working and what they are writing—all in real-time," says the Office Blog. Right now the Preview only implements this type of collaboration within Word.
Microsoft details 'Smart Applications' which learn from the way you work. A new command search tool, email analysis/filter and a contextual info application are all detailed by the Office blog. It's hoped that these will smartly boost your productivity and minimise time used for mundane tasks.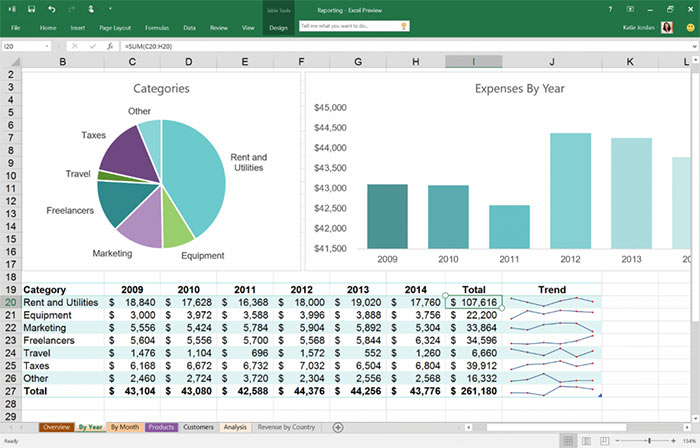 The Excel spreadsheet application seems to have got the most improvements, functionally. It has been updated to "pull, map, analyze and visualize your data faster and easier than ever". Users will benefit from; one-click forecasting, intuitive data connecting and shaping capabilities, easy data modelling and powerful analysis, new modern charts and graphs and more.
Get the Office 2016 Preview
If you are already an Office 365 subscriber you should log into your account and check the 'language and install options'. The next step is to click the 'additional install options'. Then you will see the drop down menu offering 32-bit or 64-bit installs of the desktop suite.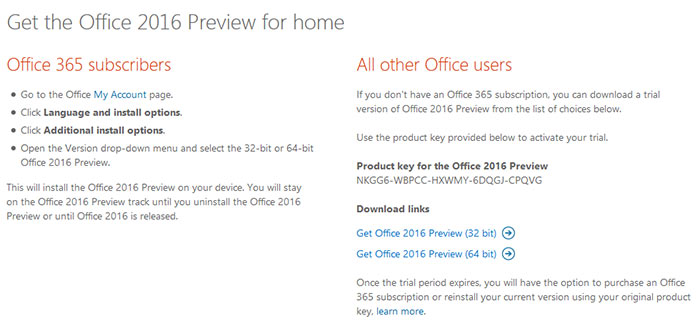 Other PC users can just go to https://products.office.com/en-us/office-2016-preview to download the Preview. Right now Microsoft is recommending the 32-bit version for testers, for third party plugin compatibility reasons.
As a 'Preview' it's still going to have bugs and doesn't include all features planned for the autumn 2015 final release. Please note that the Office 2016 Public Preview will overwrite your current Microsoft Office suite install, according to Windows Central, so it's best tested on a spare PC if you rely on Office for your day-to-day productivity work.