Microsoft let loose a tidal wave of information about Windows 10 at the first day of its BUILD 2015 event. Some key new developments such as the Microsoft Edge browser and Continuum for Phones have already been detailed here on HEXUS, so now I aim to round up all the other interesting titbits for you.
Ambitions
Microsoft voiced its ambitions to have 1 billion active Windows 10 devices in circulation by the end of 2018. This number includes all the devices it is now catering for including; PCs, games consoles, smartphones and IoT devices. With the free upgrade to Windows 10 available for many and the buzz concerning DirectX 12 it should be able to entice quite a large wedge of Windows 7 PC sticklers to upgrade.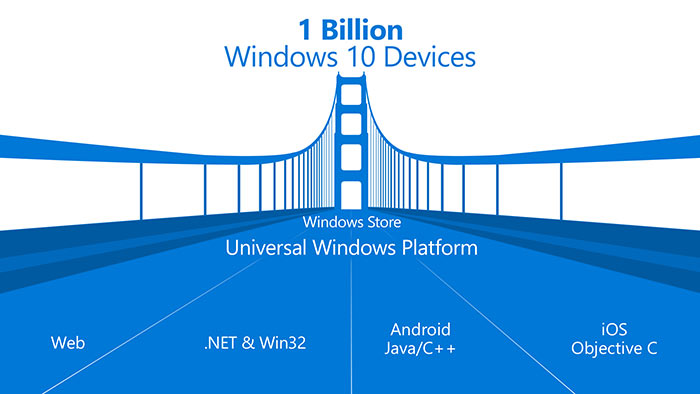 Universal Windows Platform Bridge – classic, iOS and Android apps for Windows
Getting its universal app store bulging at the seams and competitive with Google Play and the Apple App Store seems like a priority for Microsoft. In order to help boost the app store and make it more universal and meaningful Microsoft is providing developer toolkits "which enable developers to bring existing .NET, Win32, Javascript, Cordova, iOS and Android apps to Windows 10 devices with minimal code modifications".
With Win32 apps brought into the Microsoft Store users will enjoy the streamlined install, update and removal features of the current modern apps. Microsoft also aims to make Windows app monetisation easier, add video adverts and IAP subscription options and carrier billing options.
Windows 10 preview 10074 released with Aero Glass, Cortana visual refresh
A new build of Windows 10 was launched to coincide with the first day of the developer event. Among the back end, technical tweaks and bug fixing Microsoft reintroduced some Aero Glass UI frivolity for Microsoft Insiders. According to Venture Beat, "Microsoft is running an A/B test with this build." It goes on to explain, "Half of Windows 10 testers will see normal transparency on the Start menu and taskbar while the other half will see a blur effect." The default option in the final Windows 10 release will depend on the feedback it gets from Insiders.
Cortana is now more tightly integrated into the Start Menu. The Cortana experience is more consistent with other Windows apps' look and feel. Furthermore she has been plugged in to Bing Instant Answers to add eleven new capabilities including; weather, finance, dictionary, calculator, flight status, reference info, cinema show times, tech help, time zone, unit conversion and chit chat.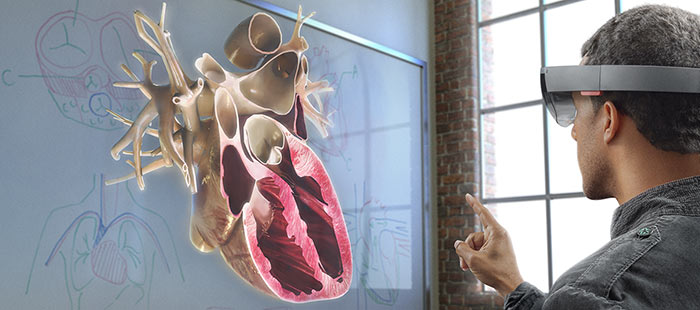 HoloLens
Microsoft showed us some more of the HoloLens project. It released a video which details the hardware the project required to fit in with its holographic use ambitions. Windows 10 universal apps are shown to be really versatile as they work in the holographic computing environment. Your apps can run on walls and on furniture, the whole holographic UI is very flexible.
Microsoft's Alex Kipman described the HoloLens UI as "embracing this notion of experiencing life in three dimensions by mixing digital content right into your world, right into your life, with more reality than ever before." HoloLens capabilities have excited developers and we hope to see some stunning, imaginative uses for this technology over the coming months.