Back in November last year we first heard about Microsoft's Continuum UI ideas. It was demonstrated on a Microsoft Surface switching from desktop to touch-tablet mode. The intelligent switching was thought to be needed as part of the one Windows strategy with Windows 10 and its universal apps working elegantly upon whatever types of devices and screens they find they are connected to. Yesterday Microsoft's Joe Belfiore showed that Continuum has many more tricks up its sleeve, especially on mobile.
The crux of the idea is that with Windows 10 for phones users will be able to connect their smartphones to a monitor, mouse and keyboard and enjoy a PC experience "almost just like the one you get from a full PC device". Belfiore imagines companies offering touch-down spaces for their mobile executives where execs can connect their phones to work almost like they were on a PC. Overall it looks like a slicker implementation of ARM's 'seamless computing' ideas.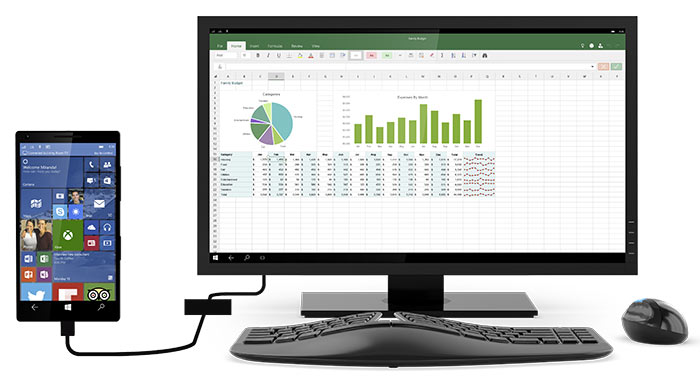 Microsoft's key apps are already built to intelligently work like this and productivity favourites like Powerpoint, Excel and Outlook were shown working. The demonstration looked pretty smooth and there's new Windows Phone hardware on the way that will make it even better. With new phones built for Windows 10 with a new Qualcomm chipset users will be able to enjoy dual screen functionality. The Windows Phone screen can be used independently from the big screen if you so wish. This means, for example, someone could watch a movie, text and make calls on the smartphone while another person gets on with answering emails in Outlook on the big screen with mouse and keyboard interaction.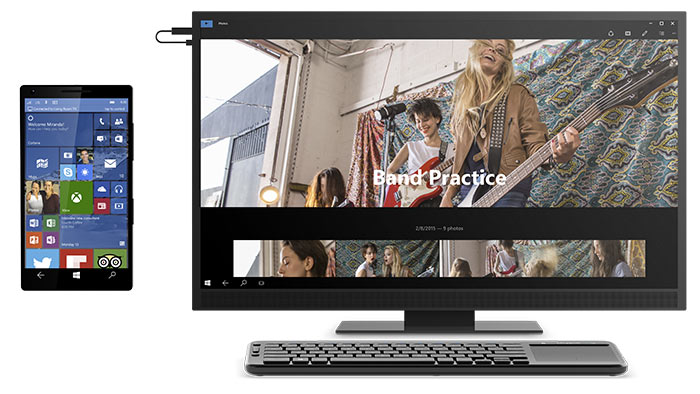 As hinted at above, the universal Windows apps that work like this in Continuum mode need to be written so that their UI can scale and adjust to different form factors, input types and screen sizes. We expect to hear more about the new devices that can drive dual screens at a later date.