Microsoft has announced the global rollout of its Office 365 Video platform. The goal is to provide organisations and enterprises with "a secure, company-wide destination for posting, sharing and discovering video content". Sharing video in the workplace is becoming as important to IT users as sharing diagrams, charts and photographs. Having this facility in Office 365 meets both user and IT department requirements, says Microsoft.
Company videos such on topics such as training, demonstrations and policies can now be shared in Office 365 without the use of external services such as YouTube. The Office 365 Video service allows precise control of sharing and viewing permissions and more. It supports both Flash and HTML5 so should work in any modern browser on desktops, tablets or even smartphones.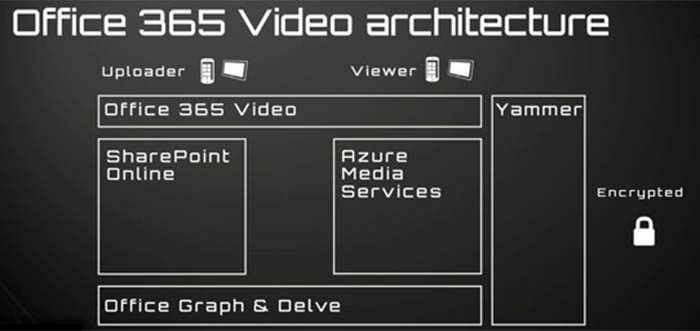 Office 365 Video offers up a familiar web interface showing curated content, popular, and other pinned categories. Channel pages can include sections such as; community, Meetings, Marketing, Training and so on. Microsoft takes care of all the background processes for businesses; Azure Media Services takes your uploads and automatically generates video files of different bitrates optimised for different devices/connections, it also provides thumbnails and metadata that it passes back to SharePoint Online, content is discoverable and sharable in Office Graph and Delve and users can discuss the videos in the integrated Yammer side panel.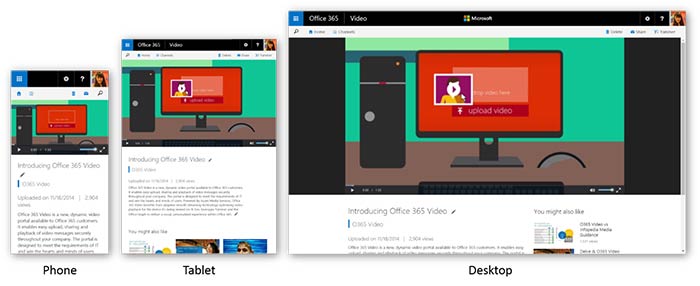 Microsoft has produced a brand spanking new Office 365 Video iPhone app to offer the service on mobile. The new mobile app even includes video recording and uploading of existing smartphone videos. In the embedded Office Mechanics video you can also see the responsive Office 365 Video webpage working slickly in the Safari browser on the iPhone and we are assured it will work just as well on Android Chrome mobile or other HTML5 savvy apps and devices.
To qualify for Microsoft 365 Video your organisation must be a subscriber to Office 365 enterprise (E1, E3 and E4 ) or Academic plans (A2, A3 and A4) and have SharePoint Online (in SharePoint Online administrators can toggle the Office 365 Video functionality). Government plans are coming soon. The ability to embed videos outside of the portal and let users select their own video thumbnails is coming in the near future. The possibility of native apps beyond the iPhone app will be considered periodically.