Microsoft has traditionally distributed its updates from a single source. Though it is common for regional mirrors to exist, once your OS selects the files required they will just download from that single source. However this method of distributing operating system and app updates may well change in the future. A recent version (Build 10036) of Windows 10, distributed to Microsoft partners, contains an implementation of Peer-to-peer downloading technology for Windows/app updates.
The new Windows Update downloading option lets users toggle an option to "get updates from more than one place". If turned on Microsoft says you will get the downloaded updates more quickly. Sometimes that could be a lot more quickly depending upon your internet connection and if other PCs on your network have already got the updates you require. Microsoft's P2P implementation doesn't just limit itself to official Microsoft sources on the internet you can also opt to include PC on your local network and other PCs on the internet, see below.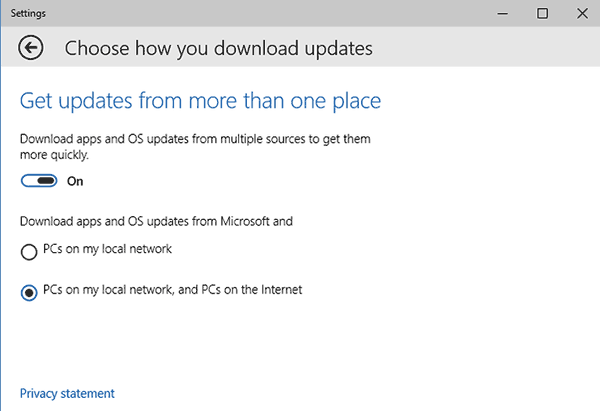 The Verge reports that the technology being leveraged here was probably acquired when Microsoft bought Pando Networks in 2013. The underlying tech is similar to that used by BitTorrent. Hopefully the Pando technology has some kind of security in place to prevent this update method being fooled into downloading malware infected updates or apps.
The P2P updating hasn't yet been officially announced or detailed, via the Microsoft Blog for example, as this feature hasn't yet arrived in the Windows 10 build distributed to the common-or-garden 'Windows Insiders'.
Windows 10 build 10036 also contains the following interesting updates; transparency settings for the Start Menu, a new UI for Wi-Fi connections, a new recycle bin icon and a new virtual desktop task view. An extensive overview of the new features is shown in a video uploaded by WinBeta, embedded below for your convenience.