Microsoft Office for Android tablets has come out of preview and officially launched today. The first full releases of Microsoft Word, Excel and PowerPoint for Google's mobile operating system are now available on Google Play.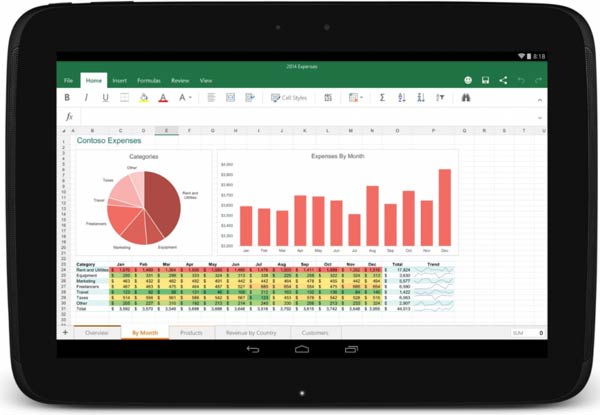 The apps are essentially free to use, as with the iOS apps launched last year. However, an Office 365 subscription will be needed if you want to access certain features and advanced functionality. Since Office for Android is optimised for Android tablets, the requirements for downloading include having a tablet that is 7-inches or bigger. The slate will also have be running Android 4.4 or newer with at least 1GB of RAM. Only ARM-powered Android tabs can use the Office apps right now but native support for Android devices with Intel chips is said to be arriving within a quarter.
Microsoft said that the preview program generated a total of 250,000 downloads from around the world, covering more than 3,000 variants of 500 separate Android models with different screen sizes and hardware capabilities. The high engagement rates meant that the company was able to receive a constant flow of feedback from its 30,000 active users in various communities. In addition, the Office apps for Apple iOS which were released last year have received more than 80 million downloads worldwide and remain among the top 10 productivity apps in the iOS App Store.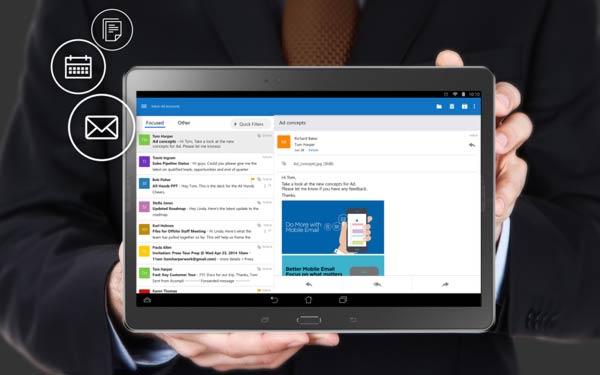 Outlook launched for iOS and Android
Just two months after acquiring Acompli, Microsoft has rebranded the app as Outlook for iOS and Android. A fully featured version of the email and calendar program has been released for iOS whilst the Android version remains just a preview.
The new Outlook apps are identical to Acompli, meaning that users will have the same quick access to calendar, contacts, mail and files. Microsoft has plans to update its new app regularly, and integration with Google Drive and Dropbox has been retained, with Microsoft's own OneDrive as an option.
"We have been and we'll continue to update the app weekly," says Julia White, Microsoft's general manager of Office. "So in a very short period time you'll start to see variance from the Acompli app that will not be updated after that point."
The new app separates your email into two tabs, Focused and Other, separating important emails with the rest. Outlook learns and tailors your priorities and will support Office 365, Exchange, Outlook.com, Yahoo! Mail and Gmail, as well as most other email providers.