Eidos Montreal has announced the 'Dawn Engine', a next-gen game engine that is designed exclusively for PCs and the recent generation of consoles. The Dawn Engine is expected to be "the cornerstone for all Deus Ex Universe projects" at the studio.
"In the past, we've relied on existing engines for our games," writes Eidos's Community Hub Manager Sacha Ramtohul. "But in the end, we found that our creative vision was somehow limited. So we decided it was time for us to invest in creating an engine tailored for our needs."

The Dawn Engine is based on a "heavily modified" version of IO Interactive's Glacier 2 technology, which was used to power Hitman: Absolution. The engine features new technology which improves rendering capabilities, real-time physics and advanced artificial intelligence programming, among its key strengths.
"The technology behind any game is a key component in ensuring that gamers are able to develop both an emotional and visceral connection to what they are experiencing within the game world," said David Anfossi, Studio Head at Eidos-Montréal. "We've worked tirelessly over the last few years developing this engine, building upon and improving both the visual and immersive artistry in our games. We truly believe that our engine will help us to strengthen both the gameplay and storytelling experiences we strive to create."
The developer was also quick to explain that the phrase "Deus Ex Universe" does not refer to a Deus Ex MMO on the way, but something broader.
"Deus Ex Universe is the name we are giving to the fictional world and the rich lore we are creating for it, which will of course include core games, as well as any other projects that will help bring the world of Deus Ex to life," the developer said. "We won't go into too much detail for now, but what we envision is for our projects do have meaningful ties to one another, in order for them to strengthen and deepen your experience within this Universe."
The award-winning Square Enix studio behind Deus Ex: Human Revolution and Thief continues to tease the future of Deus Ex with the Dawn Engine screenshot, saying: "Keep in mind – despite any hints you may pick up from this image, this screenshot was only taken in order to display the level of detail and artistic fidelity that is possible with the Dawn Engine."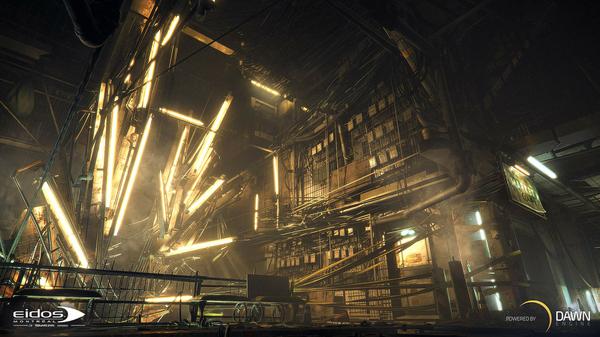 Click to zoom
The fact that the developers are talking about what's next for the cyber-punk franchise is not surprising, as it has been three years since Deus Ex: Human Revolution came out on PlayStation 3, Windows PCs and Xbox 360. In 2013, developer N-Fusion Interactive released a Director's Cut version of the game alongside a spin-off called Deus Ex: The Fall.
Eidos Montreal is also calling for qualified candidates to join its team and work on development efforts behind the Dawn Engine and its impending games. If you think you're qualified, click here to apply.