Windows 10 trackpad gestures
Microsoft's Joe Belfiore demonstrated an extended range of trackpad gestures for Windows 10 yesterday. He was making a keynote presentation at TechEd Europe when he trailed the functionailty, which will be coming to Windows 10 Insider Program members shortly. As reported by The Verge, some of the gestures shown off work similarly to how Mac OS X's trackpad gestures work.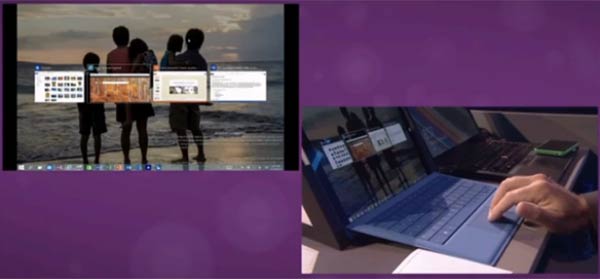 During his presentation Belfiore told the audience that PC laptop trackpad gestures had, for a long time, been left up to OEMs to determine. Then a selection were introduced as common functions of all Windows 8 systems. In Windows 10 the feature set is going to expand further "where multiple finger gestures can make you really efficient". This is meant to appeal to "power users," said Belfiore.
The power user gestures that will be introduced include the following:
Three finger swipe down – minimise all windows
Three finger swipe up – restore all windows
Three finger swipe up – when all Windows are already restored you get the task and desktop viewer for quick switching
Three finger left and right swipes – for 'Alt-Tabbing' between your open apps
Rounding off the section of his talk about the above features Belfiore added that we will be seeing a lot more consumer-end enhancements added to Windows 10 early next year.
Microsoft Office 16
Another nugget of Microsoft software information emerging from TechEd yesterday concerned Office 16. ZDNet reports that Redmond is aiming to deliver the new office software suite in the second half of 2015. This information was shared by General Manager of Office and Office 365 Marketing Julia White.
ZDNet's Mary J Foley says that Microsoft is 'dogfooding' Office 16 right now. However the firm isn't testing the touch-first Metro style apps as yet, they are due in spring. On the subject of touch interfaces, Office for Android is expected soon, possibly early November.
A new Mac version of Office is also in the offing and a screenshot purported to be from the Mac's new Outlook client was doing the rounds earlier in the week. Foley expects the first official unveiling and discussion of the Windows Office 16 features to take place at Microsoft's Ignite conference in Chicago in May next year.