Twitter has launched a new audio feature on its social media platform. A 'dockable' music player can now be added to the stream of messages, photos and videos. The new audio media elements are called 'Audio Cards'.
The new type of card, which can be added into users' timelines, will be available on the web and in Twitter's iOS and Android apps shortly. Twitterati can then listen to embedded music and podcasts directly from a Tweet. In addition, "you can dock the Audio Card and keep listening as you continue to browse inside the Twitter app," product manager Richard Slatter explained, meaning that the listening experience on mobile will not have to be interrupted as the app user moves around the UI.
SoundCloud and iTunes partners
The first third-party music service which Twitter is partnering with is SoundCloud, a company which has offered to open up its full catalogue for streaming through Twitter Audio Cards. You can see DJ David Guetta already making use of this new function, Tweeting a song which appears as a large player containing the album artwork, comments and links to other music. A graphic below shows how Audio Cards work in the mobile app.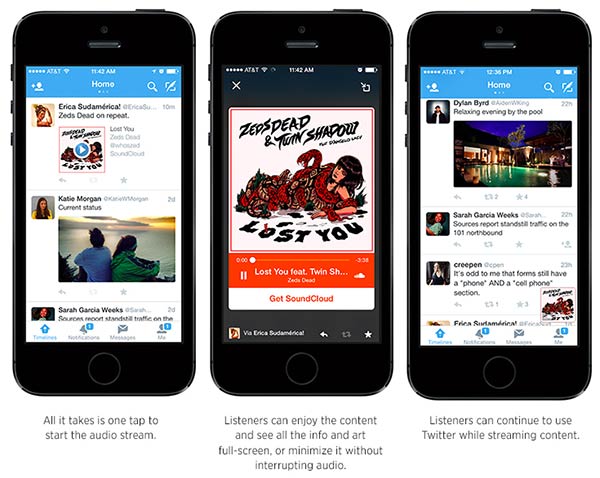 Apple's iTunes will also allow users to purchase a song directly from the app, with select iTunes artists becoming available via Audio Cards soon. Users will be able to preview upcoming releases and play the whole song, unlike the preview on iTunes Store which only plays less than 2 minutes of it. The only song currently available for Audio Card embedding is The Foo Fighters' 'Something From Nothing', from the band's upcoming album "Sonic Highways", but more songs will become available in the near future.
Twitter stresses that the audio functionality is still being tested, and plans to open it up when more partners are in place. You can check out the full list of SoundCloud partners from which podcasts, music and other audio content will be made available through the new feature here. However, do bear in mind that you will have to follow these partners' Twitter accounts in order to be able to listen to the cards.