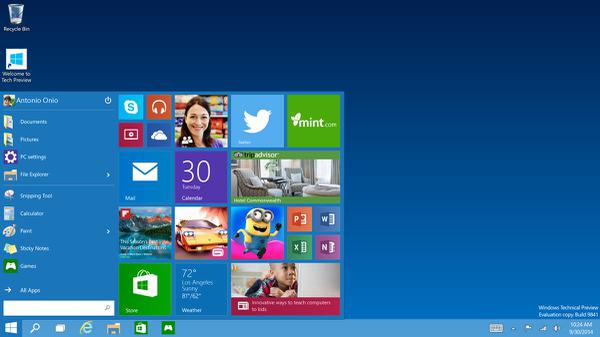 Microsoft has announced that a million people have already registered for the Windows 10 Technical Preview.
Introduced at the turn of the month, the Technical Preview is designed to give PC experts and IT pros an early feel for Microsoft's next-generation operating system, which the software giant claims will be a "huge collaborative project."
In stark contrast to Windows 8, which many feel wasn't what users were asking for, Windows 10 is intended to be "a Windows that everyone will love and really enjoy using."
Over the coming months, and in anticipation of a 2015 release, Microsoft will be using the Windows Insider Program as a key avenue through which to source end-user feedback. We're told that "over 200,000 pieces of user-initiated feedback" have already been submitted, with Microsoft now "hard at work poring through all the feedback, categorizing and processing it, and cycling it back into our development."
According to Microsoft, nearly two thirds of all Windows 10 Technical Preview installations are on actual PCs as opposed to virtual machines. "This makes us confident that a lot of the feedback is based on "medium-term" use and not just a few minutes of experimentation," says Joe Belfiore, CVP of Microsoft's Operating Systems Group.
Users wanting to keep tabs on progress are being advised that a new build is "coming soon," though there are currently no clues as to which changes will be implemented. Going by the top user requests, something as simple as having the ability to move/disable the new taskview buttons could be high on Microsoft's list of priorities.