Microsoft has released a version of its OneNote note taking app for Mac OS X. The release was said to have been made in order to make OneNote "instantly available everywhere". With this app release the program will be available on PC, Mac, Windows tablets, Windows Phone, iPad, iPhone, Android and the Web – and your OneNote documents will be in sync across all these platforms.
OneNote for Mac fills an important gap for Microsoft as it wishes to make the app the default note taking choice of users rather than the popular Evernote and Google Keep alternatives. Everything you input into OneNote documents is synchronised via OneDrive and now available "on all the platforms you care about," says Microsoft.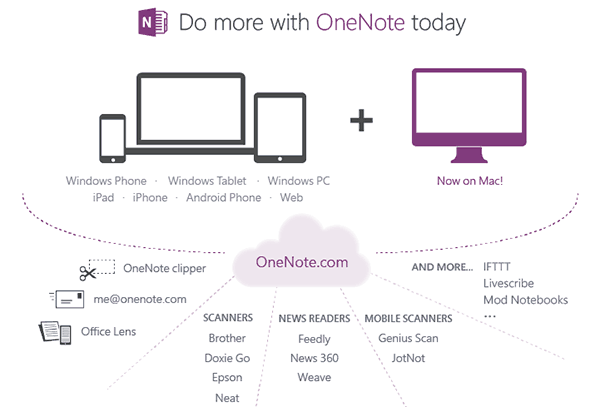 As well as the new Mac OS X app and the fact that OneNote is free on every platform (excluding some premium features like Sharepoint support and Outlook integration), Microsoft also introduced a cloud API for OneNote. The API includes the following features which are illustrated in the chart above.
OneNote Clipper for saving web pages to OneNote
me@onenote.com for emailing notes to OneNote
Office Lens for capturing documents and whiteboards with your Windows Phone
Sending blog and news articles to OneNote from Feedly, News360 and Weave
Easy document scanning to OneNote with Brother, Doxie Go, Epson, and Neat
Writing notes with pen and paper and sending them to OneNote with Livescribe
Mobile document scanning to OneNote with Genius Scan and JotNot
Having your physical notebooks scanned into OneNote with Mod Notebooks
Connecting your world to OneNote with IFTTT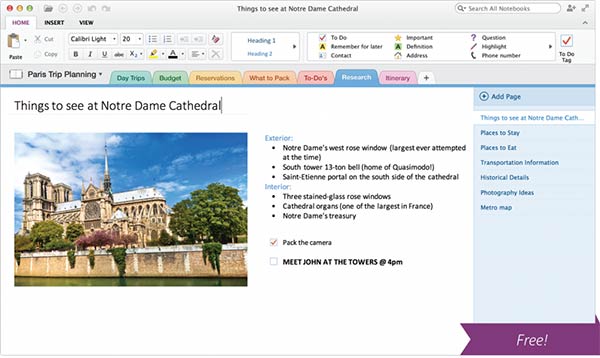 While the release of OneNote for Mac might be welcome for any Mac OS X users, they might be in for a bit of a disappointment if they have previously used the program on Windows. PC Pro has compared both Mac and PC versions of the program and the new OS X version has been judged to be "a sad, miserable, runt of a thing". It lacks many options available in the Windows version; for example on Mac you have four insert options when cobbling together documents but on the PC you can choose from 17 kinds of items.
In related news Office for iPad is said to be likely to be released following Microsoft's 27th March press-briefing in San Francisco. It will be interesting to see if the iOS Office suite is similarly pared back in functionality compared to Windows/Modern UI versions.