With so many products revolving around 3D printing announced at CES this year, it is no surprise that Adobe is also stepping into the sector as it unveiled new updates to its Creative Cloud digital hub, including integrating new 3D printing capabilities in Photoshop CC today.
"By radically simplifying the 3D print process, Photoshop CC will become the go-to tool for anyone who wants to print a 3D model," said Adobe in a press release emailed to HEXUS. "The new 3D printing capabilities integrated in Photoshop CC enable Creative Cloud members to easily and reliably build, refine, preview, prepare and print 3D designs, setting the stage for explosive growth in the 3D printing market."
Although it is possible to create 3D content from scratch using 3D tools already available within Photoshop, Adobe thinks that most users will be importing their 3D content from 3D scanners or 3D modelling software. The designer can then implement auto mesh repair and support structure generation to improve and protect the quality of the models, making the final printed product exactly as how it was envisioned. "Most importantly in terms of the pain points of 3D printing, Photoshop automatically corrects any problems with the meshes, whether it's holes or wall thickness problems, or they're not watertight, in addition to optimising support structures to ensure the printing happens reliably," explained an Adobe spokesperson. It is thought that currently many people, particularly 'creative types', spend hours fixing 3D models and getting them ready to print.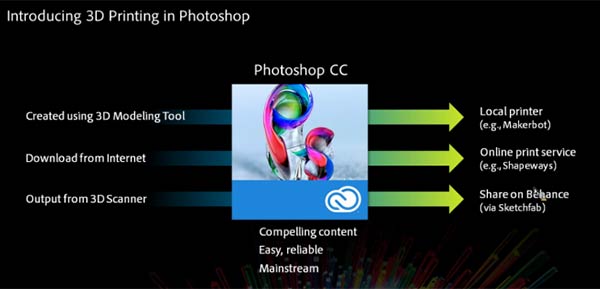 The finished product can be saved in five different 3D file formats, including OBJ, STL, 3DS, Collada and KMZ. Whilst the MakerBot Replicator is the main supported printer, more printers will be added in the future, said Adobe. With an open architecture supported by the software, users will also be able to create their own printer profiles using an XML file.
Other Adobe CC updates
Adobe's latest updates bring a total of 20 new features across Photoshop, Illustrator and InDesign with more to arrive later on this year. These include the addition of Typekit font integration in Illustrator and InDesign and new tools for Photoshop like Perspective Wrap, which allows users to change an image's perspective by pulling and pushing corners of a mesh overlay. Adobe will also update Linked Smart Objects, an improved version of the existing smart objects tool which improves collaborative working.