The OneNote Windows app has had a major update from Microsoft's OneNote team today. It is claimed that the new app "significantly improves how you capture, find and view the notes you care about most."
The update was aimed mainly at new Windows 8.1 tablets with styluses and bring with it improved Camera Scan and Share features. Users can now use Windows 8.1's Share Charm to instantly send notes with photographs, links and/or screenshots into their OneNote notebooks without the need to open the application first. This is a huge improvement from the previous version, which only allowed users to add texts and links into the notebook that was last opened by default.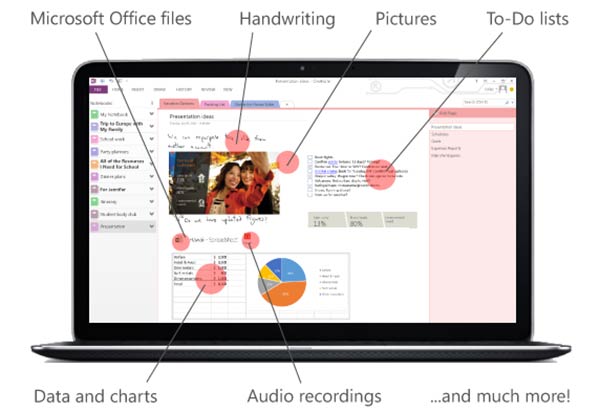 The Camera Scan feature added to this new version helps users to import pictures of documents and whiteboards into OneNote with just a few clicks. "It will automatically crop, rotate, straighten, remove shadows and sharpen the image so it looks like a scanned document." Below is a demonstration of how it works-
Users can also browse their latest doodles straight away, once they open the app in the Recent Notes section. OneNote can also search texts in images you've captured with its Optical Character Recognition (OCR) feature which is great for searching scanned or photographed images. Microsoft's application also allows text to be copied out of these images which is a pretty useful feature.
Another new feature, Page Previews, allows users to see a sample of the content of each note they have created; this gets rid of the hassle of opening individual notes to find the one you are looking for. There are also improvements in inking, when you write with a stylus. Such input has been improved to feel more natural when writing and it is now possible to adjust the thickness and colour of the pen strokes.
Microsoft has also fixed a number of bugs on this update. If you are a One Note user let us know if you have tried out the new version and what you think about it.