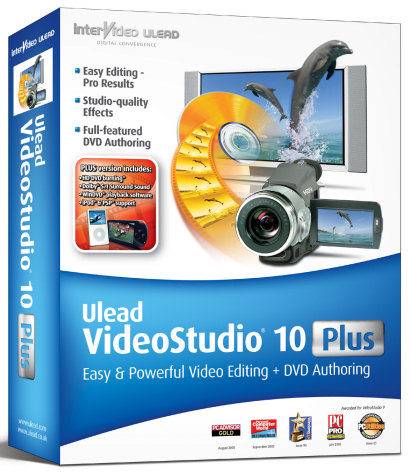 The headline claim for the latest version of Ulead's VideoStudio - V10 due in early May - is that it's the first consumer video editing program able to author high-definition discs in the new HD DVD format (though the fact that this requires an optional extra - a yet-to-be launched "burning pack" - doesn't figure high in Ulead's publicity material nor the good news that it will be free) .

The program - running only on Windows 2000 SP4 and higher, including XP Pro x64 Edition - can, though, edit video from high-definition consumer HDV camcorders as standard. So, when HD DVD writers do finally turn up, users who've installed the burning pack will be able to create high-definition DVDs of their high-def footage where as, currently, they can only create standard-definition versions.

HDV footage uses a complex group-of-pictures MPEG-2 standard. Untangling that complexity usually means that editing is very slow and laborious unless using a very fast PC and getting assistance from an HDV-editing card. To try to work around the problem, V10 creates lower-res/non-MPEG-2 proxy versions of the captured files. Ulead claims - we suspect rather optimistically - that doing this makes the editing of HDV as easy as that of standard definition, even on mid-range machines. For system requirements and to see the minimum needed if not using proxies, dive over to this page.

When the edit is complete and it's time for outputting, the changes made to the proxies are then made to the original HDV files so that the final version is created at full HD resolution. In our experience, this is a process that usually takes a lot of time and is often best carried out overnight. We'd expect the same will be true with VideoStudio 10.

Of course, not everyone wants to edit HDV and no one is able to author HD DVD discs until suitable burners turn up, so Ulead is doing something with VideoStudio that it's not done before - offering two retail versions. One isn't HD-compliant and carries an SRP of £39.99, inc VAT. The other - called VideoStudio Plus - is, and is pitched at £20 more but also comes with WinDVD 7 Silver DVD player program for CDs and DVDs from sister company InterVideo. Users of VideoStudio 6, 7, 8 and 9 can upgrade to the Plus version of 10 for £39.99.

Another important creative difference between the versions is that Plus has seven video tracks - six of them for overlays that enable the easy creation of, for instance, multiple picture-in-picture and montage effects, whereas, like V9, the standard V10 has only two video tracks, one of them for overlay. Check out Ulead's full comparison chart to see the differences - including those with V9.


Both versions are said to offer faster start-up than V9 and improved responsiveness when selecting or previewing video clips. They also share a new, more flexible user interface. This has four layout options and allows the previously fixed preview window to be positioned on the left or right. There's also a new audio waveform display for easier A/V synching, music editing and volume adjustment.

V10 Plus offers

Dolby Digital 5.1 Surround Sound encoding "at the click of a button" - V9 has two-channel Dolby, as does the standard version of V10. The Plus version's interface has an accompanying

mixer for 5.1 to provide surround steering and panning capabilities "with precise sound placement".

Ulead says that V10 Plus is the only consumer video editor to provide full MPEG-4 support for sharing on popular mobile devices such as the Apple iPod, Sony PSP and video-enabled cell phones. The program's new Export-to-Mobile-Device option lets users choose from a selection of MPEG-4 and WMV output presets and is reckoned to then find the relevant connected devices. The standard version lacks MPEG-4 support but users can still import still images and certain video clips

from

mobile devices and automatically apply transitions and pan and zoom effects.

To make video editing easier for the beginner, each version has a Movie Wizard option with a selection of automated features and templates, including what's described as "new studio-quality" templates for standard and wide screen movies.

Irrespective of HD/SD differences, both versions look to offer significant improvements on the DVD authoring front. These include the addition of some "professional" menus styles and new menu transitions, along with new menu filters said to allow the creation of movement even on static menus. Perhaps best of all, it's possible with V10 to add DVD chapter points directly to the editing timeline.

VideoStudio's Multi-Trim editor has improved navigation controls said to let users quickly traverse clips and zoom in to the frame level to set precise mark-in and mark-out points. The editor in Plus has one bonus feature, too, an Ad-Zapper scanning tool that's said to automatically detects TV commercials for easy removal.

Finally, it's worth noting that both versions of VideoStudio 10 have three new video filters. Fish Eye, applies rounded, bubble-like distortions to video clips; Enhance Lighting adds fill light to dark shots; and Anti-Shake improves unsteady handheld video but, as with all anti-shake filters, this results in lower resolution and won't be able to fix seriously shaky footage.

Find out more about VideoStudio 10 on Ulead's site.

Questions or quarrels? Let's hear 'em over in the HEXUS.community.