Late last week a new Skype Beta was welded together in the Skype Garage (yes there is such a thing!). Skype 5.11 Beta enables "Skype users to reach even more of their friends and family" by letting users sign in with their Microsoft Account (Windows Live ID) and/or Facebook account. Also six new languages are available in new localised versions of Skype.
The Skype blog says that "You can now sign in with your Microsoft account (formerly Windows Live ID), and see presence as well as send and receive IM messages from your friends who are using Messenger, Xbox, Hotmail or Outlook.com." Also Facebook users don't need to create a Skype account to use the program, their Facebook ID can be used to sign in directly. More useful is the ability to link the accounts so that all your contacts can appear in the one combined IM listing window. "If you choose the link option then Skype will display a combined list of friends." However the blog mentions that "This is an area we are still working on" so please don't expect everything to work perfectly smoothly.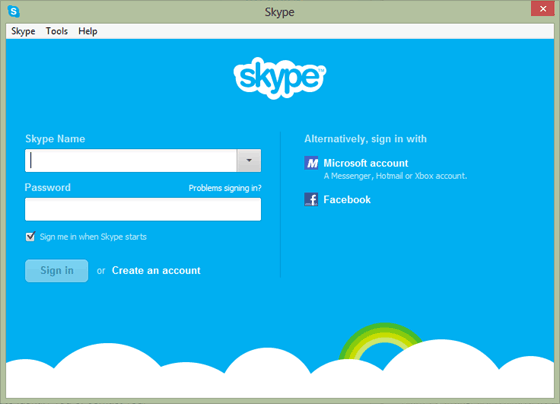 Turning to the look and feel of the new Beta; Skype 5.11 Beta has a "refreshed and flattened Skype UI with a simpler and less cluttered look." The new Skype also allows you to change your profile picture easily to a previous profile picture you have used with the program. I'm glad the Skype Home tab is still detachable and closeable. The interface does indeed look more compact now, below is my preferred window config and size with the useless Skype Home tab eradicated.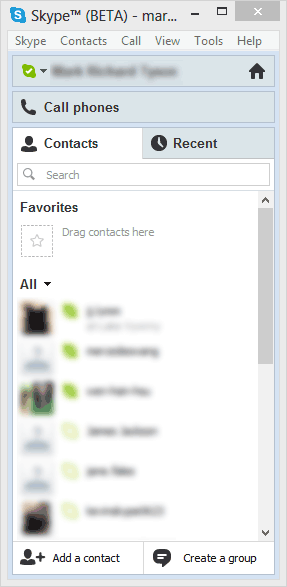 The six new languages Skype Beta is available in include; "Thai, Croatian, Slovenian, Serbian, Catalan and Slovak, bringing the total languages Skype supports to 38".
Skype is my main IM because I used it to keep in touch with family when I lived abroad for a few years. I know a couple of work colleagues on Messenger so it's good for me that both IMs will be under-one-roof. Also on my system Messenger is a dog to load, causing much grinding of the HDD platters, strangely it is almost as slow as Adobe Illustrator to pop up its head up after launching...
Download the Skype 5.11 beta here.