A new version of the Mac OS X operating system is now available for Mac computer owners. The newly upgraded operating system is named Mountain Lion (Apple are running out of big cats to name their OSes after). Headline features of the new system are its tighter integration with online cloud storage and integrating popular features from Apple's iOS platform.
If you bought a Mac after 10th June Mountain Lion will be a free upgrade, other users can get their hands on the latest and greatest for just $19.99 (£13.99). The system upgrade is Mac App Store download only and you'll need to have Snow Leopard or Lion already installed to be offered the upgrade. The result is that your Mac will have some facilities that work, look and feel more like your friendly companion iPhone or iPad. Microsoft's similar but even more far reaching strategy of integrating the Windows Mobile interface and touch sensibilities into Windows 8 will follow up in a few months, 26th October to be exact.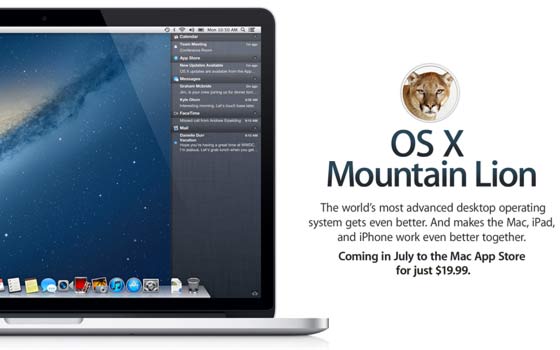 Headlining new features of Mountain Lion;
Integration with iCloud, cloud storage designed for mobile iOS devices.
Integration with Facebook, easy sharing with social networks like Facebook, Twitter, Flikr and Vimeo etc. Social notifications are built into the system.
Power Nap – even when your Mac is in low power sleep mode new emails get delivered, backups get processed and software updates automatically.
Messages app – copied from iOS, replacing iChat. Lets you message your Mac, iPhone and iPad buddies.
Gatekeeper – computer security and permissions app.
Reminders and Notes – help you keep track of to-dos across all your devices.
Game Centre - to store high scores and find game opponents within Mac OS X and iOS ecosystem.
Dictation – you talk and the computer types for you.
Chinese input method improvements and option to search via Baidu in Safari. Other Chinese preferred services like Youku, Tudou and Sina Weibo are supported system wide.
See a list of ALL the 200+ new features here.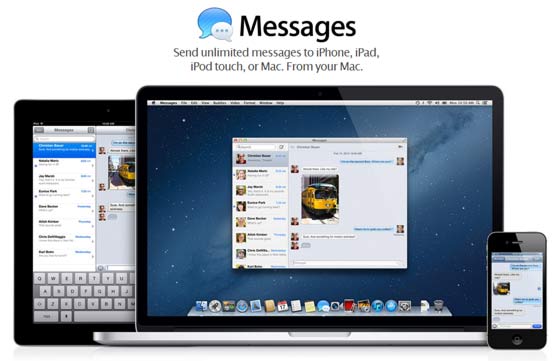 Third quarter earnings
Apple shares had a rare stumble in afterhours trading on Wall Street last night after the company issued its third quarter earnings statement. Shares dropped five per cent in value. Analysts say this is in response to Apple's results falling short of market expectations; Mac sales were up only two per cent year-on-year. In addition consumers seem to be favouring the least expensive iPhones and iPads.