OK, so perhaps our subtitle of 'A return to the pre-Vista era of visuals?' is a little strong, however, a return to basics is exactly what Microsoft is attempting to do with the Windows 8 desktop UI, with some of its reasoning being for noble causes, such as usability and others something likely to pull the strings of desktop users, such as catering to tablets.
In an attempt to break the news that Windows 8 would be losing the Aero interface in the softest manner possible, Microsoft published a blog post long enough to be made into a small book, depicting the history of the Windows UI right from Windows 1, with the firm mentioning the loss of Aero right at the very end. The post is still an interesting one mind you and, for those with the spare time, we suggest you head on over and have a read.
In summary, Microsoft didn't want to change too much of the feel in order to maintain familiarity and compatibility with Windows 7 and so, the Windows 8 UI still feels like the Windows desktop, however, the Taskbar has had the Aero glass removed and the slight bevelled edge replaced with just a straight line, making it into a simplified transparent box. Windows themselves have lost even transparency, which Microsoft claims distracts users, though we suspect limited graphical memory on lower-end devices may have been the core factor in this decision.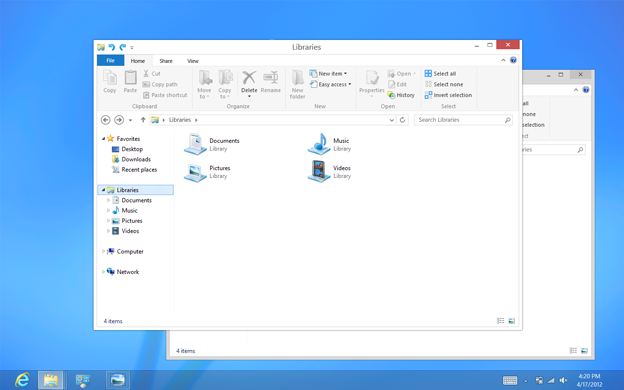 To further Microsoft's attempt at simplification and the removal of distractions, buttons have had a visual update, with the removal of gradients and glows and again, squaring off of the edges.
Microsoft revealed that some of the UI changes won't, however, even make it to the Release Preview of Windows and will only be present in the final product and so, elements may change more than we've anticipated. The firm also stated that it is working hard with manufacturers to get touch screens out into the market that have excellent edge performance and that the Windows 8 corner system for mice is still being refined.
What do our readers think? Is the loss of Aero for the sake of simplicity and/or performance a good thing?