Today is the last day of mainstream support for Windows Vista systems. This means end users will get little else but crucial security updates made available by Microsoft for the next 5 years before that service, the extended support, is cut off (April 2017). For the next 90 days users can enrol in an extended hotfix agreement, to pay for non-security hotfixes and support.
Windows XP is even more advanced in age and well into its extended support period. In April 2014 Windows XP extended support will end and it will probably be unsafe to continue using it in any connected environment.
Windows Vista had a lot of critics when it was released. Users complained a lot about the sluggishness of Vista systems and also the newly introduced User Access Control (UAC) which Microsoft implemented to try and make the OS less vulnerable to malware. It became an operating system that many users decided to 'skip' and wait for the next major update (like the previously unpopular Windows ME). Vista's unpopularity probably extended the life of Windows XP by a few years; XP was available installed on new PCs up until October 2010, even though Vista was released in January 2007.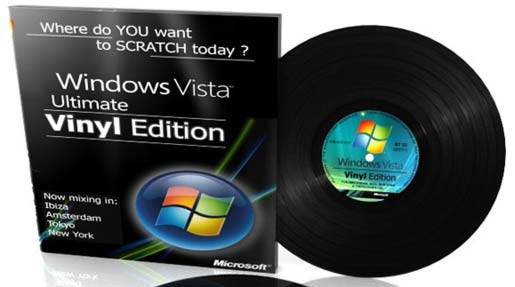 Vista was the last version of Windows to be supplied on vinyl
Windows Vista is still a more 'popular' desktop operating system than Mac OS X according to new statistics produced by Net Applications. Windows XP usage leads at 47 per cent, Windows 7 use is 38 per cent followed by Vista at 8 per cent. Mac OS X users are a little less numerous at just under 7 per cent.
In two years time can Microsoft just leave all these Windows XP users vulnerable and unpatched? The 47 per cent will dwindle, for sure, but there will probably still be a significant amount of XP users left.