Following on from our recent report on the new Windows 8 Task Manager, Microsoft has now revealed details on its Start Menu's search functionality.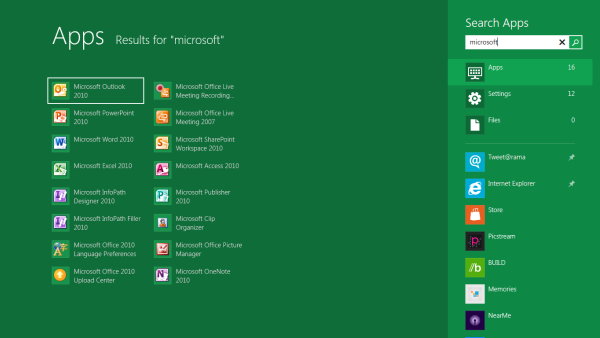 I'm going to be up-front and frank with my opinion that a full-screen search menu is not the way forward for Windows. Sadly, this is exactly what Microsoft proposes to give us, in an attempt to cater for the tablet and touch device market. As the owner of an iMac running OS X Lion, which features a full-screen application panel, much like an iPad, I can concur that the experience is intrusive and overwhelming on larger monitors as you are stripped of your desktop view and any hopes of multitasking. Having to refocus and pull your eyes from one side of the screen to the other in desperate search of your application is no good thing.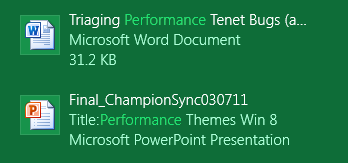 On the other hand, Microsoft has made some smart choices. Unlike OS X Lion, icons and search elements are smaller and more refined, whilst remaining large enough for touch use. The search functionality itself has been improved with highlighting of search terms, auto-complete and toleration of spelling errors - features expected of a modern Google search. Searches are split into three categories; Apps, Settings and Files, thus avoiding the unwanted and uncontextualised results inherent in Windows Vista and Windows 7. Apps gain precedence over other searches as Microsoft's research has revealed that 67 per cent of searches are run to locate programs.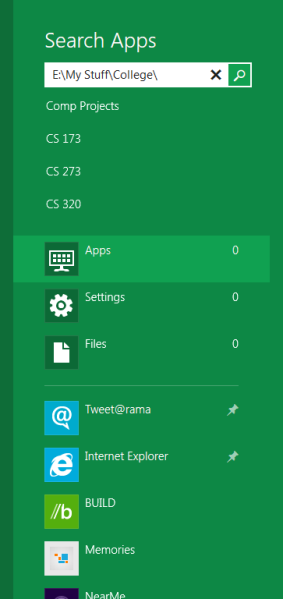 While primarily designed to work well for a touch interface, keyboard functionality has remained. Enhanced arrow navigation and new shortcuts to jump to the two lesser categories by using the Windows key + either W (settings) or F (files). Microsoft-dubbed 'Metro-style' apps, a coinage for a full-screen power app, can also use and integrate this search functionality
If we factor in tablet and touch usage scenarios, perhaps this compromise of full-screen vs. a faster search experience is the best we could hope for if there's to be any chance of interface standardisation across mobile and desktop Windows 8 platforms. Somehow, though, the thought of compromise leaves me clinging a little to the recent strength in market that Windows 7 has managed to build up, as it pushes aside XP as the dominant OS. What do you think?