The latest version of Microsoft's Office suite for OS X may have been available since October of last year, but it's taken until now for the company to prepare a demo-version for everyone to download and take for a spin.
The free-trial weighs in at a sizeable 900MB, but lets you try out Office for Mac Home and Business 2011. This means that you get access to all of the features of the full suite, including the debut version of Outlook on OS X.
Once the trial expires, it's possible to 'convert' the software into the paid version by entering a valid product key. Refreshingly, the download and retail version of Office 2011 are the same, meaning that a product key purchased from a high-street shop will unlock the downloaded software without the need to reinstall.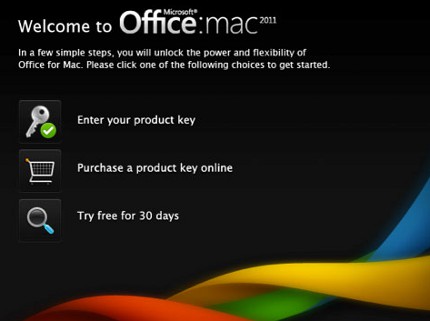 Although this is good news for the Mac-faithful unsure of whether to take the plunge with Microsoft's latest productivity suite, they're still being short-changed compared to their PC counterparts. For reasons unknown, the software-giant has limited this trial to 30 days, whereas the Windows version of Office 2010 can be used for a full 60 days before it expires.
The latest version of Office for Mac features a number of UI enhancements that bring the look and feel of the applications in line with the equivalent Windows versions, as well as many other performance and interface improvements.
The UK-localised free-trial is available for download now from Microsoft, along with more details about the free trial. The full versions of Office for Mac 2011 carry MSRPs of £90 for Home and Student and £190 for Home and Business, although actual retail prices are quite a bit lower. A three-pack of Home and Student licences is also available.