The vast majority of people are probably pretty familiar with the Windows and Office Genuine Advantage (WGA and OGA) programmes, which require software to be validated before updates and other packages can be downloaded. Among other things, the anti-piracy measures require an ActiveX plug-in or another similar tool to be run before certain files can be accessed from the Microsoft support sites.
But it looks like this requirement has now been dropped and that the programme has been quietly retired - at least for Office. According to ZDNet - and mentioned in a note at the top of several Knowledge Base articles - OGA has been retired and will no longer be required to download updates.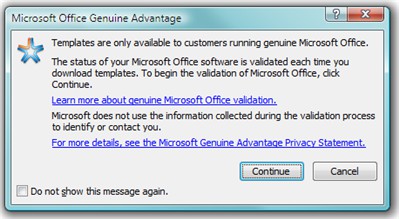 Image courtesy of ZDNet
Microsoft hasn't issued any sort of announcement covering the decision, so there are no clues as to either the reasoning or the scope. However, it looks like it will apply to all versions of the productivity suite, including Office 2010, which was only released a few months ago. Traces of OGA have also been scrubbed from the Microsoft support sites, and older pages now redirect to either the Windows home page or a new 'Benefits of genuine Office' page.
This doesn't mean that the software-giant has totally given up the fight against piracy, though. You'll still need a valid product key to install the software, which will connect to the company's servers to ensure that it's legitimate. Obviously patches will only be pushed automatically to Windows Update running on valid copies of the OS as well. However, this still means that there's one less layer of anti-piracy measures in place for Office.