Over a year after the release of its last major version, Opera has announced the availability of the version 11 beta of its eponymous browser.
The new version includes a handful of features that should help to make the brower a compelling choice over the competition. The biggest addition is called 'Tab Stacking' and allows you to drag tabs on top of each other to group them into one. You can then expand, move or close the group, or pause over a stack to see a preview of each tab. This looks to be a very handy feature for anyone who works across dozens of pages at a time, and will provide similar functionality to Firefox's Tab Panorama.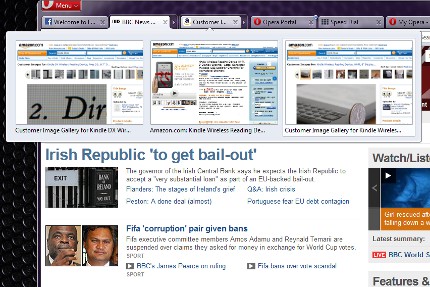 This release is also the first to introduce extensions to the browser. Unfortunately there are still fewer than 150 add-ons available, but this number should grow pretty quickly as developers get used to the new functionality.
Rounding out the major changes is a new system of visual feedback for the mouse gesture interface. Holding down the right mouse button will now bring up a command wheel that will help you to learn Opera's range of mouse-based controls.
The first beta of Opera 11 is available to download now directly from the developers website.
Microsoft has also released an update to the Internet Explorer 9 beta, just a week after the latest developer preview was made available. According to the company, this isn't a new build, but a series of stability and reliability fixes. Nonetheless, it's being pushed as a recommended update through Windows Update, and is advisable for anyone currently putting the browser through its paces. Alternatively, a standalone update has also been made available.