Microsoft's Worldwide Partner Conference (WPC) concluded yesterday, and CEO Steve Ballmer took the opportunity to emphasise the company's commitment to slatecomputers.



"A terribly important area"



The software giant's first attempt to push Windows 7 tablets came in January at CES, where a number of prototypes were shown off. We were also inundated with slates running Microsoft OS's at COMPUTEX last month, where dozens of Windows 7 and Windows CE 7 tablets were displayed. Despite all of the devices on show, no flagship slate hardware - running Redmond's software - from key manufacturers have actually managed to make it to market yet.

However, Ballmer used his keynote speech to reiterate how important slate-style PCs were going to be this year. The enigmatic CEO highlighted more than 20 partners, including ASUS, Dell, Toshiba, Lenovo, MSI and Samsung, who are all planning to release Windows 7 slates in the coming months.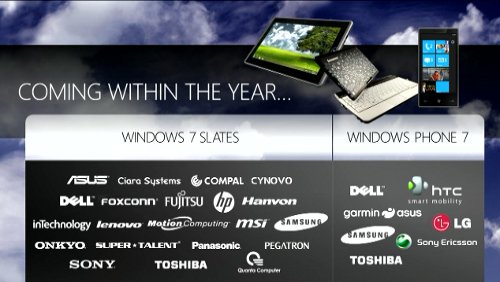 "Windows 7-based slates, they'll come with keyboards, they'll come without keyboards. They'll be dockable. There will be many form factors, many price points, many sizes. But they will run Windows 7. They will run Windows 7 applications. They will run Office."



"Slates that I think you'll find quite impressive"



Microsoft certainly seems to be taking slate PCs seriously, and the fact that it's taking a flexible approach to function and form-factor is certainly interesting. The slate/tablet PC has often been seen as a niche form-factor that sits uncomfortably between smartphones, netbooks and laptops. However, a more flexible approach could mean that we see products specifically tailored to certain situations, making them altogether more useful.

Though it wasn't mentioned by name, HP was listed among the partners set to release a Windows 7 slate this year. The HP 'Slate' was shown off by Ballmer at CES 2010, but rumours were swirling that it had been killed off, especially following the company's acquisition of Palm. However, it appears that HP is still, at least to a certain extent, committed to releasing a Windows-powered slate.

For anyone who wants to catch up on the keynote speeches from earlier in the week, they're available for streaming now from the WPC web site