Microsoft has today announced UK pricing for its Office 2010 software suite, scheduled for release in June 2010.
The software, to launch in three unique retail product editions - Home and Student, Home and Business and Professional - will be available with prices starting from £109.99 for boxed retail products.
The version most likely to be used by small businesses, Office 2010 Home and Business, will be priced at £239.99, making it comfortably cheaper than the equivalent version of Office 2007 - currently priced at £349.99. In addition to the lower price, Office 2010 Home and Business also offers more features than Office 2007 Standard by incorporating the popular note-taking application OneNote (pictured) and Office Web Apps.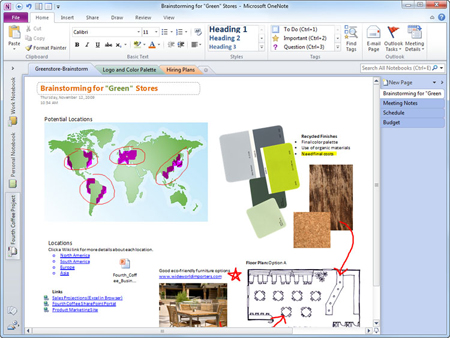 Home users, meanwhile, will be charged £109.99 for Office 2010 Home and Student - £10 more than Office 2007 Home and Student, albeit with the addition of Office Web Apps.
Further savings are also available to consumers who purchase a new PC from Microsoft's retail partners. Windows computers sold with Office 2010 will allow users to unlock the varying product editions through the purchase of a cut-price Product Key Card. These will be available priced at £89.99 for Office 2010 Home and Student and £189.99 for Office 2010 Home and Business. However, despite the seemingly-attractive savings, Microsoft's Product Key Cards will provide only a single license key, as opposed to the three license keys provided with boxed retail products.
Microsoft also reiterated that a free version of its Office 2010 suite, dubbed Office Starter, will become available pre-installed on retails PCs. Office Starter 2010 will offer ad-supported and reduced-functionality versions of Word and Excel, as well as an upgrade path to full retail editions via a Product Key Card.
At the top of the product range, Microsoft's Office 2010 Professional edition - which adds Publisher 2010, Access 2010 and "premium" technical support - will be available priced at £299.99 for a Product Key Card or £399.99 for a boxed edition.
Microsoft has yet to reveal details on volume licensing for enterprise deployment, but pricing for the the company's three retail Office 2010 suites is summarised in the below table.
Office 2010 product edition
Product Key Card
Boxed Retail
Office Home and Student 2010
(Word, Excel, PowerPoint, OneNote, Web Apps)
£89.99
£109.99
Office Home and Business 2010
(Word, Excel, PowerPoint, OneNote, Outlook, Office Web Apps)
£189.99
£239.99
Office Professional 2010
(Word, Excel, PowerPoint, OneNote, Outlook, Publisher, Access, Office Web Apps, premium support )
£299.99
£399.99