Microsoft's proposed browser ballot may soon be approved by the European Union.
The ballot, first revealed in July as part of an ongoing effort to comply with EU law, would present European consumers who buy a new PC with Internet Explorer set as its default browser with a ballot screen from which they could easily install a browser of their choice.
The proposal, introduced as a last-minute alternative to Microsoft's previous plans to offer browser-less versions of Windows to European consumers, had been welcomed by the EU but faced further criticism from Microsoft's main rivals in the browser market.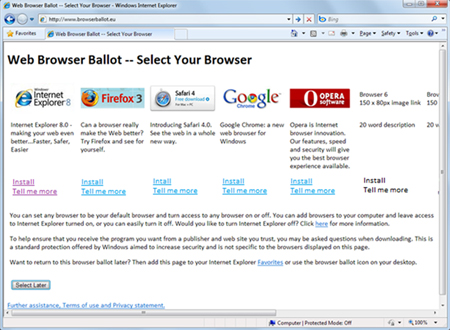 Complaints from Opera, Mozilla and Google requested that Microsoft revamp the layout of its proposed browser ballot, with a randomised listing of alternate browsers a repeated request.
Opera's chief technology office, Hakon Wium Lie, also suggested that Microsoft should display the browser ballot outside of its Internet Explorer application, adding that security warnings should also be disabled for consumers opting to download third-party browsers.
According to sources close to Computerworld.com, Microsoft has now overhauled its browser ballot and may be granted EU approval as soon as December 15th. Microsoft will then issue the ballot to users of Windows XP, Windows Vista and Windows 7 via a Windows Update, with users who have Internet Explorer set as their default browser being prompted by the ballot to select their browser of choice.