Microsoft has revealed that two of its Vista-era Ultimate Extras are to be made available to all users of Windows XP, Windows Vista and Windows 7, completely free of charge.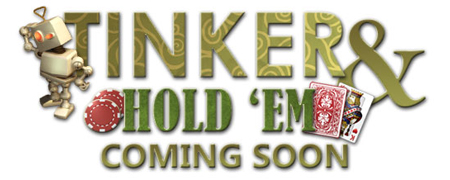 The extras - gaming titles Tinker and Hold 'Em - were once offered as part of the Ultimate Extras scheme incorporated in Microsoft's Windows Vista Ultimate operating system.
Originally intended to enhance the Windows experience, Microsoft's Ultimate Extras were widely criticised for offering little in terms of new content. Since the introduction of Vista in January 2007, only six Extras have been made available; Windows DreamScene (and additional content packs), Language Packs, BitLocker and EFS Enhancements, Hold 'Em Poker game, Tinker game and Windows Sound Schemes .
Tinker and Hold 'Em will soon be made available for free via Microsoft's Games for Windows platform, and though there's no sign of a comeback for Windows DreamScene, Microsoft describes its two gaming titles as follows:
Tinker
Even robots get lost, sometimes! Help this one get home by solving puzzles that untangle a surreal and misleading world...but be careful! Tinker only has a limited amount of energy, so you'll have to use it wisely or he'll be lost forever! A classic mental challenge for the entire family, Tinker features an original score, compelling visuals, and 60 levels of classic puzzling fun!
Hold 'Em
Pit yourself against the computer for a high-stakes experience that won't empty your pocket! Play with up to five computer opponents, and customise the look of the card deck and playing table. Have fun and bet what you want — the computer can't make you pay up!