Microsoft may have wanted to keep its forthcoming anti-virus solution under wraps for a little while longer, but recent leaks appear to have forced its hand.
The software, codenamed Morro and productised as Microsoft Security Essentials, will be a free security solution for genuine Windows users, and Microsoft has revealed that the first public beta will launch on June 23rd at Microsoft.com/Security_Essentials.
Security Essentials, pictured below, will be available in 32-bit and 64-bit versions, and Microsoft adds that the first beta will be released in English, Israeli and Brazilian languages.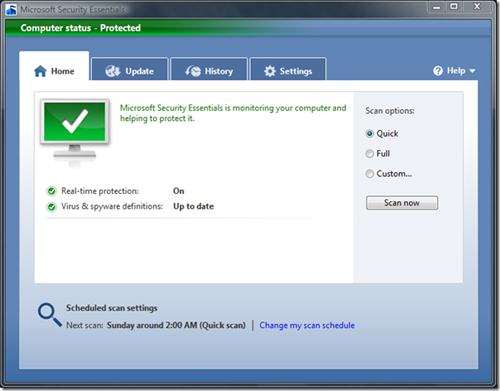 The beta will remain usable until the final product launches later this year, and though Microsoft isn't being specific on a release date, we'd venture to guess it'll be sometime around October 22nd to coincide with the launch of Windows 7.
Commenting on the software, Microsoft reveals that Security Essentials will replace Windows Defender on install, as the new solution provides both anti-virus and anti-malware protection.
Microsoft will be offering the software to OEMs on launch, but given the royalty paid by other anti-virus solution providers, we don't foresee the days of limited trials being numbered.