Ever wanted to know if your PC is capable of playing back Blu-ray discs? If so, CyberLink's BD Advisor is the tool for you.
The software, available as a free download from Cyberlink's Blu-Ray Disc support website, diagnoses a user's PC to identify the ability to play Blu-ray media. The latest release, version 2.0609, is able to detect support for features such as BD-Live Picture-in-Picture (PiP) commentary.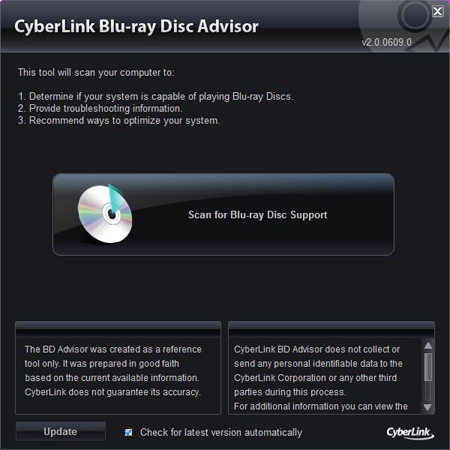 Alice H. Chang, CEO of CyberLink, said:
CyberLink is committed to developing digital media applications for the Blu-Ray format and continues to provide the most updated solution to our customers. The BD Advisor is a free tool helping our users to check if their PCs are Blu-Ray ready. It has won many appreciations since its first release.
Though CyberLink states that it doesn't guarantee the accuracy of the advisor, it's a useful little freeware tool to see if your PC has what it takes before you take the plunge for a Blu-ray drive.
Official product page: CyberLink.com