PowerDVD and MoovieLive, a perfect match?
CyberLink has launched PowerDVD 8 and if you're thinking this is just another version of the player that does what it has always done - play DVDs, you'd be wrong.
According to CyberLink, the key features in PowerDVD 8 include:
Support for HD audio and video standards and formats, including AVCHD and Blu-ray Discs.
Pure Home Theatre Audio – lets users enjoy unmatched clarity and purity through their high-definition, 7.1-channel home-entertainment system, or on the go using a notebook.
Movie Collection – lets users collect information about movies and sync with their online MoovieLive account.
Movie Remix – lets users create their own stories using their favourite DVD movies, rearranging scenes, adding dialogue and commentary, subtitles, and on-screen effects.  
MoovieLive.com – the new online community for PowerDVD users to share comments and remixes, publish reviews, and find friends with the same movie taste.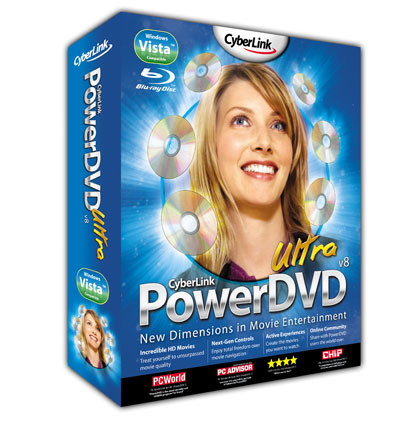 Granted, PowerDVD as a standalone software package is still essentially a DVD player (and a good one we might add), but the big new addition this time around is the tie-in with CyberLink-created website, MoovieLive.com.
Alice H. Chang, CEO of CyberLink explains:
"PowerDVD extends the user experience from the realm of watching movies on the PC to a new online universe of shared experiences. With a built-in database for organising a movie collection, and the ability to share information, opinions, and remixes via the online community MoovieLive, PowerDVD users now have more ways than ever to enjoy movies."
MoovieLive.com, a web-based extension for PowerDVD 8, allows users to rate movies, write reviews and find other users with similar movie tastes. Using PowerDVD's built in Movie Collection feature, users can build a database of their movie collection, and then sync and share information with other PowerDVD users.
Another interesting built-in feature is Movie Remixes, which allows users to create stories from their favourite movies by selecting scenes and the order in which they want them played. In addition, users can add animated graphics, voice-overs and personalised subtitles. Once complete, the 'Remix' can be uploaded directly to MoovieLive.com and shared with the world - plenty of potential for video reviews right there.
Though MoovieLive.com is a completely free service, PowerDVD isn't. It comes available in three editions:
PowerDVD 8 Ultra - €79.99
PowerDVD 8 Deluxe - €59.99
PowerDVD 8 - €39.99
Herein lies the problem. We like what CyberLink is doing with MoovieLive.com, adding a social experience to movie viewing is in our estimation the logical course of action. However, the majority of users are now able to playback DVDs as standard on Windows Vista or Mac OS X systems for example, completely free of charge. With websites and software such as IMDB.com and Apple's iTunes already available, for free, is PowerDVD good value at €39.99? That's questionable.
If PowerDVD really wants to compete, we'd like to see a 'Lite' version of the player, completely free of charge.
Should you want to put PowerDVD 8 and MoovieLive through its paces, head on over to CyberLink.com where you can take advantage of a free 30-day trial.
Official press releases:
CyberLink Launches PowerDVD 8, Introducing New Ways to Enjoy Movies
CyberLink Launches MoovieLive.com, a Social Network Site for PowerDVD 8 users and Movie Enthusiasts
Useful links:
CyberLink.com - PowerDVD
MoovieLive.com