As regular HEXUS readers will surely be aware, Windows 7 hits the end of its extended support period on 14th January 2020. That's less than five weeks from now. Some people or the organisations they work for will be buying into the extended security updates (ESU) plans Microsoft has been making available. However, most home computing folk are advised to upgrade to Windows 10 in double quick time.
Keeping up to date is strongly recommended by Microsoft and it wants users to move over to Windows 10 ahead of 14th January 2020 to avoid various potential pitfalls of an unsecure system. It asserts that upgrading to a modern OS like Windows 10 will mean you can get "the latest security updates to help keep you and your data safer". It goes further to note that even though your Windows 7 PC will continue to operate after the EOL date that it is inherently weaker in security terms and "it will become more vulnerable to security risks and viruses," as time and hacker and malware writers march on.
Already HEXUS reported that Microsoft had started to bother current Windows 7 users, back in April, and then when it extended nags to Windows 7 Pro users this October. Now Microsoft is stepping up the nag annoyance factor as it signals the move to full screen notification via the KB4530734 update for Windows 7 and Windows Server 2008 users.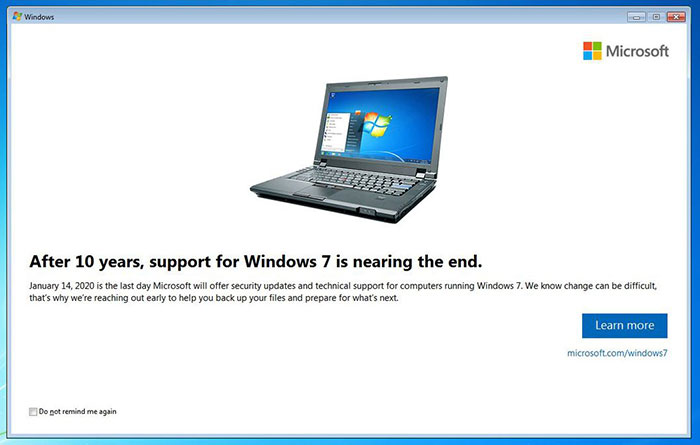 Current non-full-screen version of the upgrade nag
The current Windows upgrade nag dialogue window is rather big and hard to ignore, see above, but at the time of writing we don't have a screenshot available showing the new full screen version. Microsoft doesn't say what the message on the full screen notification will be but I reckon it will be pretty similar to the above. We are told the screen will be visible above all your windows "until you interact with it".