Just ahead of the weekend Microsoft announced another of its Windows 10 Insider Preview builds. Some of these releases are more interesting than others, depending upon whether they mainly squash bugs or introduce new features. Build 18970 is in the latter category, and its headlining quality is that it heralds big changes to the tablet experience for 2-in-1 convertible PCs.
Convertible and 2-in1 PCs are rather important to Microsoft - with its popular Surface devices range, many of which are in this form factor. The new tablet experience for 2-in-1 convertible PCs now available as a Beta to Windows Insiders is starkly different but familiar. It eschews the Live Tile touch interface brought in with Windows 8 for the familiar trappings of a tweaked desktop UI.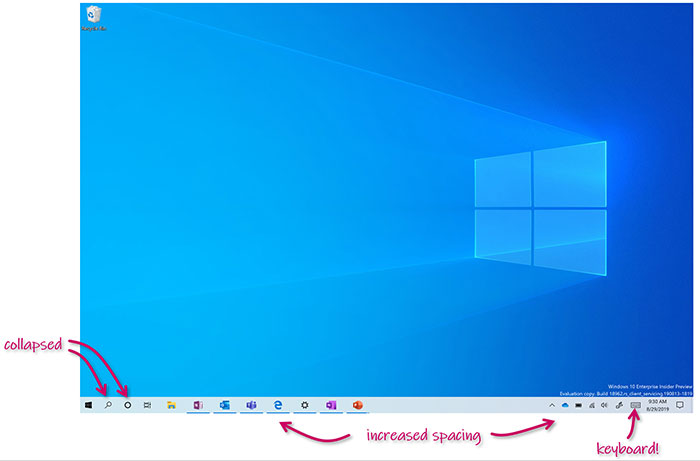 As you can see in the illustrative screenshot above, the new mode created for 2-in-1s looks very much like the regular Windows 10 desktop. A few concessions are made to fat fingers; collapsed search, increased task bar icon spacing and an always on soft-keyboard icon, for example. The touch keyboard auto invokes when you tap text fields. File explorer will be similarly changed to be more touch-friendly.
Here is how Microsoft imagines a user will interact with a Surface Pro or similar 2-in-1:
Use your convertible PC as a laptop as you normally would–opening apps and interacting with them.
When you're ready to pick it up and go or simply lean back on the couch, you can fold back the keyboard or remove it altogether, and it should switch to this new mode shown above.
Now use your device as a tablet with touch.
There are a few more details about the above news that are important. Firsly, Microsoft hasn't got rid of the Live Tile Windows 8 style touch UI, but is delivering this new UI for touch on convertible / 2-in-1s - not tablets. Secondly, this is a beta and Microsoft will be keeping an eye on user feedback with regard to tweaking the 2-in-1 mode further one way or another.
Reset this PC - Cloud Download
Another interesting improvement in the latest Insider build of Windows 10 is the new choice to download Windows or use local reinstall within the 'Reset this PC' options. Microsoft says the cloud download option will reinstall the same build, version, and edition, that is currently installed on your device.
Source: Microsoft's Windows Experience Blog.