I quite like Google Photos for taming my photo collections from various devices. As well as the unified cloud experience it can smartly find images that aren't so easily discoverable via my NAS - searching for objects or scenes in the image like 'fish' or 'sunset' etc. It has other worthwhile attractions too; making albums, collages, sharing groups of photos and videos easily, and I often Chromecast pictures and video clips to the TV.
Last week some Google Photos users noticed a new feature had appeared. Right now I can search for text documents in my photos collection - but the new feature uses OCR on your photos so you can search them for words that appear in the text containing images.
Google has since admitted it is "rolling out the ability to search your photos by the text in them," starting this month. It suggests what might be one popular use for the feature; "Once you find the photo you're looking for, click the Lens button to easily copy and paste text. Take that, impossible Wi-Fi passwords". Quickly moving away from the topic of privacy, snooping, and so on - which might be some users' first thought if they find out Google is OCRing photos.
I've had a quick test on my desktop PC and Google photos is already allowing me to search my images that contain text by the content. I'm OK with this as I often take images of documents and so on as reminders, or to have a digital copy if I go travelling. I used the feature to quickly find a Screwfix order number and my Council Tax bill.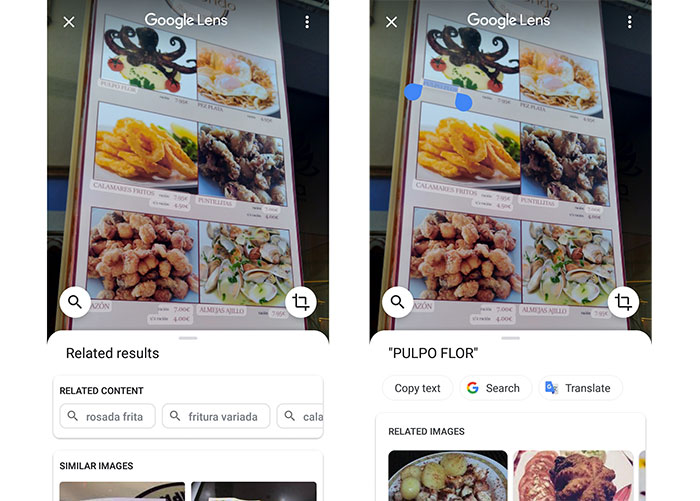 Moving on to the Android phone app, the Google Now functionality added some extras that weren't available on my desktop PC / browser. After invoking Google Now via the icon in the app I could highlight bits of text, copy and paste them, and even send them to translate (I searched 'menu' and found one from Spain in my photo library, see image above).
With any new rolling out feature, you can expect there to be some 'wonkiness' for a while but for me it seemed to be a promising start to a useful feature. As Google says, it will be very welcome for copying tortuous Wi-Fi passwords when travelling, at the least.
Source: Google, via Android Police.