Microsoft has announced that the Windows 10 May 2019 Update is now available and has started to roll out via the Windows Update control panel. The firm thinks the update is ready for mass consumption thanks to the "positive data and the feedback we've seen" during the longer preview phase this OS has been through. Microsoft is being understandably cautious in the wake of the Windows 10 October 2018 Update shenanigans. At least it is still May.
In its blog post about the OS update release, Microsoft says that it is taking a measured and throttled approach, allowing us to study device health data as we increase availability via Windows Update. It is thus probably wise not to go hunting down the update files but rather wait for it to be offered to your via Microsoft's Machine Learning assisted algorithms.
If you are would like to initiate a download Microsoft suggests you go to the following Windows settings panel:
Settings > Update & Security > Windows Update,
Then select 'Check for updates',
If the update is available for your language / region / system you can seel c the 'Download and install now' option.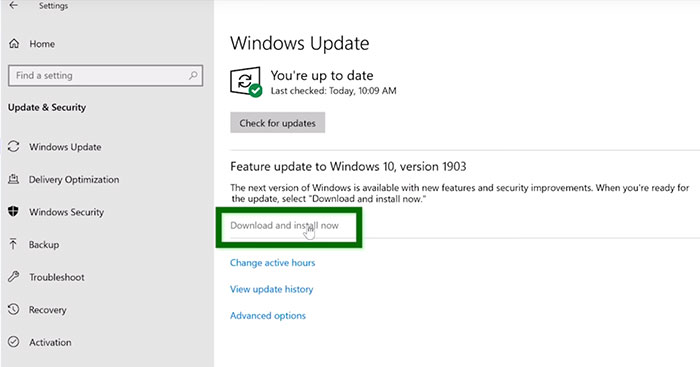 There aren't a great number of new features in the Microsoft Windows 10 May 2019 Update. As we have previously covered in HEXUS news, you will see the following highlights in this release:
The Windows Sandbox tool allowing users to run an app or script in a safe environment. If anything untoward happens the Sandbox can be easily closed without any harm to your existing PC and OS setup.
Users will have greater control over when and if they update certain Windows features.
Intelligent Active Hours feature to reduce update interruptions.
A new light theme will be available for Windows 10. It is an interesting complement to the existing standard and dark system-wide themes.
Cortana and Windows Search functionality will be separate.
Kaomoji ¯\_(ツ)_/¯ support will be added.
More built-in apps will have an uninstall option.
The new Windows release health dashboard goes live.

In addition to the above there are quite a lot of changes that may be of interest to 'IT Pros', as detailed on the Microsoft Tech Community blog.
Remember, just because the update is available for you, you can still wait a week or two before taking the plunge. Perhaps do a backup in the meantime, and check the news daily for any early adopter woes, which might have affected your PC configuration.
Windows 10 April 2018 Update approaching end of service
If you are still running this version of Windows 10 it will reach its end of service in November. Microsoft aims to auto initiate an update on these Windows 10 April 2018 Update machines to keep them supported with the critical monthly patches and so on. This ML-enhanced rollout is starting in June so it gives users plenty of time to adjust for a smooth process.