Freeware cross-platform web browser Vivaldi has just been updated to version 2.5. This browser is developed by Oslo-based Vivaldi Technologies, founded by Opera Software co-founder and former CEO Jon Stephenson von Tetzchner and Tatsuki Tomita. It is designed to please Presto-based Opera browser fans that felt deserted when Opera transitioned to becoming a Chromium-based browser. Vivaldi was initially released in April 2016.
Today Vivaldi emailed HEXUS with the news that from version 2.5, Vivaldi would dynamically sync with your Razer Chroma compatible hardware. "Imagine Chroma-enabled devices dynamically syncing colours from websites that you visit in the Vivaldi browser? Even when you are not gaming and simply surfing, you can get awesome light effects (pretty cool!). Readers/users who are gaming enthusiasts will enjoy this integration," a Vivaldi exec told us.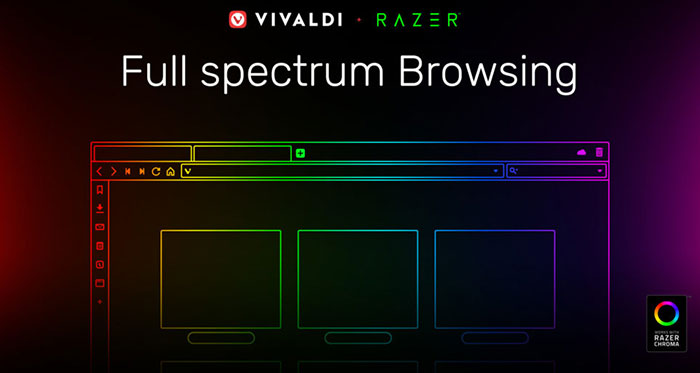 In operation this feature means that your Chroma-enabled devices will sync their colours to websites that you are currently looking at in Vivaldi. When you toggle on the 'Enable Chroma' setting it will dynamically change your Chroma lighting colours depending on the sites you might be visiting, as follows; Razer - green, Facebook - blue, YouTube - red, and so on. Other options are for scheduled colour themes. From the screenshot you will notice that the Vivaldi browser was already offered Philips Hue theme integration from a prior release.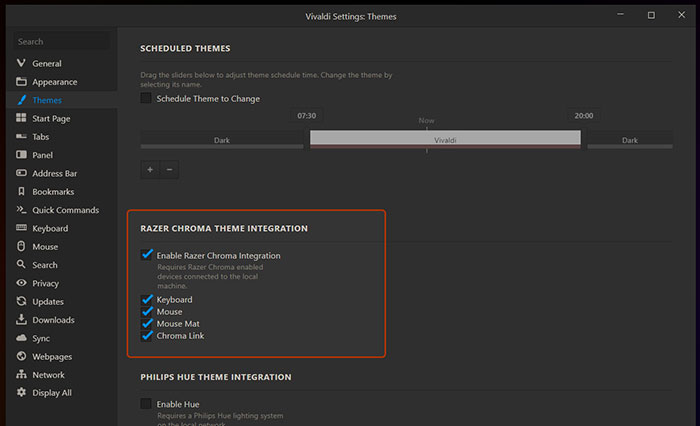 Other attractions of the Vivaldi browser are bullet pointed below.
Hibernate tabs (or group of tabs) to save memory.
View multiple sites in a single tab (split-screen view) through Tab Tiling.
Search the web and switch engines on the fly using search engine nicknames.
Add and re-arrange any site in the Web Panel (sidebar) such as Discord, Reddit and more.
Browse results quicker with Fast Forward and Rewind.
Navigate faster with fully-featured editable and adjustable Mouse Gesture support.
Watch HTML5 videos in a floating window (Pop-out video) while browsing.
Furthermore, in Vivaldi 2.5 the developer has added some Speed Dial new tab thumbnail customisation options, and extensive tab selection / manipulation options.
Vivaldi v2.5 is a 56MB download for PCs and it is available via the firm's home page, here.