Microsoft has released a new Windows 10 Insider Preview which features some big improvements for those that like to multitask between their PC and phone. Windows 10 Insider Preview Build 18885 introduces a new feature in the Your Phone app - Notifications. Furthermore, as it promised earlier, phone screen mirroring on Windows support has been expanded to include more devices.
Your Phone app
In a blog post about the latest update, Microsoft says that users can boost their focus and productivity "by seeing your phone's notifications on your PC". If this concept doesn't sound counter-intuitive to you, then you can embrace it by enabling the feature and configuring it in the Your Phone app Notifications settings panel.
The preview allows users to:
See incoming phone notifications in real-time
View all of your phone notifications in one place
Customize which notifications you want to receive
Clear notifications individually or all at once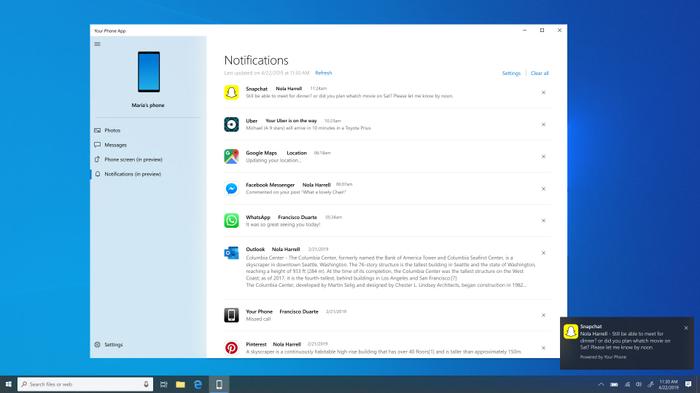 Click to zoom screenshot
If you dismiss a notification on one device, then it goes away on the other. However, that is the full depth of the interactivity - for example you can't directly respond via the notification pop-up. To respond to something you will have to pick up your phone or go to the appropriate web page of the service and log in etc.
HEXUS last reported upon the features of the Your Phone App back in October last year. Users can already read, write and respond to Android hosted text messages via their browser thanks to the Google https://messages.google.com/ site.
Screen mirroring expansion
The Your Phone screen mirroring feature was introduced back in early March but with rather limited device compatibility. To begin with only the Samsung Galaxy S8/S8+/S9/S9+ would show their screens in a Windows OS hosted desktop window. Now Microsoft has added support for the OnePlus 6, OnePlus 6T, Samsung Galaxy S10e, S10, S10+, Note8, and Note9.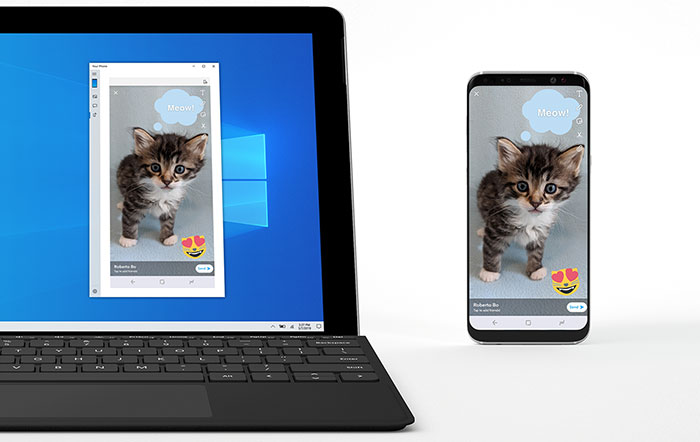 To recap, this screen mirroring app shows your phone screen on your PC display and you can click and run apps via the PC window and use your keyboard and mouse for input - which might prove faster and more convenient for some tasks.
Languages
Another important update for Build 18885 is the expansion of dictation support beyond USofA English. If you think you would like to use dictation it is now available for English (Canada), English (UK), English (Australia), English (India), French (France), French (Canada), German (Germany), Italian (Italy), Spanish (Spain), Spanish (Mexico), Portuguese (Brazil), and Chinese (Simplified, China). To use it, just select a text input field, press Win-H, and start talking.